SONGS FOR JENNY (2009)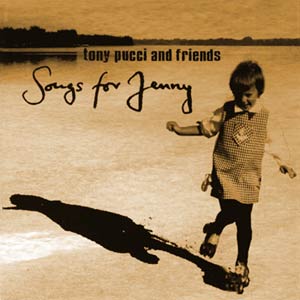 Tracks
Your Smile Never Fades

(4:10)

- Leah Pinnavaia
Peregrine

(4:24)

- Donnette Thayer
Can't Fight It

(4:26)

- timEbandit Powles
Song For Jenny

(4:43)

- Margot Smith
Heir Apparent

(4:38)

- Harry Flowers
Spilt Silver

(4:06)

- Carla Hanson & Tony Pucci
Gathering Birds

(3:43)

- Hitchcock's Regret
Drowning

(4:45)

- Noelle Hannibal
Taking It All In

(4:15)

- Daniel Watkins
I Am Sleeping

(3:02)

- Kaer Trouz
Regret

(5:07)

- Jenn Manganiello
One Fine Day

(3:35)

- Arno Sojo
Grace

(4:44)

- Lnz Kayd
Crystal Green Sea

(3:52)

- Robert Rankin Walker
Motherly Wisdom

(4:06)

- Carla Hanson & Tony Pucci
Neon Over Broadway

(5:14)

- Daniel Watkins
Here Comes Silence

(5:12)

- Jasmine Yee
Credits
Lyrics and vocals by the singer of each song.
Music written & performed by Tony Pucci
with additional music by:
Peregrine - piano by Stefan Horlitz
Can't Fight It - spacejunk by timEbandit Powles & thanks to Ricky Rene Maymi for reactionary guitar
Gathering Birds - lovely creations and textures by the boys of Hitchcock's Regret, Mark Moldre & Shane Pex
I Am Sleeping - constructed from royalty-free loops @ www.looperman.com
bass & ambient bell loop: drofon
guitar feedback: sash
CD mastered by Dave Williams @ www.audiocdmasters.com
Painting Jenny's Lake by Annie Haslam www.anniehaslam.com
CD artwork and layout: fandorin
Releases
CD - Heyday Records HEY00912 (USA) - Oct. 6, 2009
Notes
"Songs For Jenny" is a charity CD produced by Tony Pucci, and named after Tony's sister, Jennifer Ann (Pucci) Fischer, who bravely faced Amyotrophic Lateral Sclerosis (ALS) for 5 years. All proceeds from the sale of "Songs for Jenny" go to the ALS Association with the aim of discovering a cure and and providing care for those facing ALS.