AFTER THE FIRE (2009)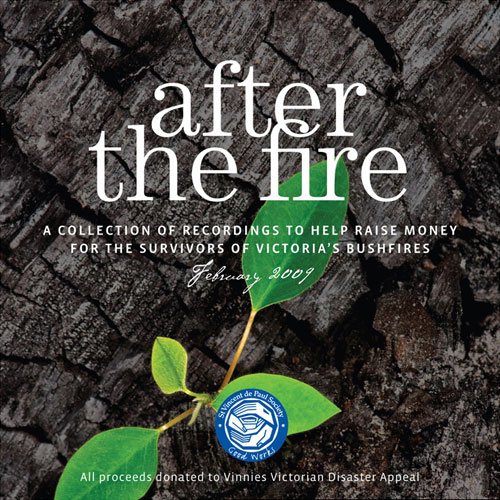 Tracks
Mercy And Plenty - Dale Ryder
Marysville - Kane / Welch / Kaplin
"Dedicated" (To The One I Love) - Renée Geyer
Gold Town - Nicky Bomba
When Is It All Gonna End - Joe Camilleri
Every Moment - Katie Underwood / Matt Dwyer
All I Know - Brian Mannix
Carry Me - Shane Howard
Sign Of Victory - Chocolate Starfish
Cool Breeze - Sean Kelly
Love An Adventure (Unplugged) - Brian Canham
Whole Lot Of Love - The Androids
Daughter Do (For Aunty Tina, an Elder of the Gunditjmara Nation) - Sally Dastey
Dressed Up As You - Marty Willson-Piper
Salty Tears - Ross Buchanan
Releases
CD - Salt Studios SS CD 101 (Australia) - April 6, 2009
Notes
This benefit CD was produced by Peter Frawley, Darren Danielson and Zoran Romic to raise money for the survivors of the 2009 bushfire tragedy in Victoria, Australia. All money raised from the sale of After The Fire went to the St. Vincent De Paul Society of Victoria's Bushfire survivor's relief fund. Visit the After The Fire MySpace page at myspace.com/afterthefirecd.
The February 2009 Victorian bushfires, also known as the Black Saturday bushfires, were a series of bushfires that ignited or were burning across the Australian state of Victoria on and around Saturday, 7 February 2009 during extreme bushfire-weather conditions (temperatures in the mid to high 40s (Celsius) and wind speeds in excess of 100km/h), resulting in Australia's highest ever loss of life from a bushfire. A total of 173 people are confirmed to have died in the fires with around 500 injured.
The fires destroyed at least 2,029 homes, 3,500 structures in total and damaged thousands more. Many towns north-east of the state capital Melbourne were badly damaged or almost completely destroyed, including Kinglake, Marysville, Narbethong, Strathewen and Flowerdale. Many houses in the towns of Steels Creek, Humevale, Wandong, St. Andrews, Callignee, and Koornalla were also destroyed or damaged, with several fatalities recorded at each location. The fires affected 78 individual townships in total and left an estimated 7,500 people homeless.