PALO SANTO RECORDS COMPILATION FOR CHANGE (2020)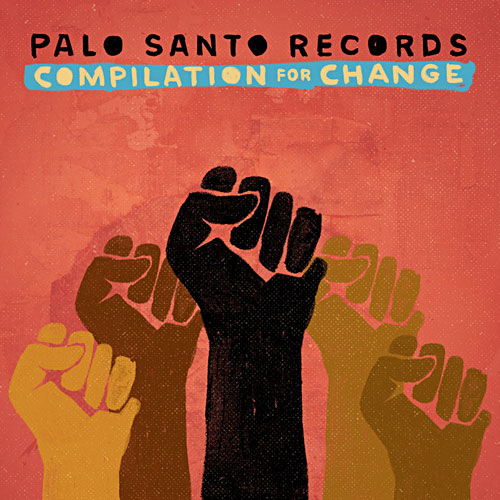 Tracks
Dry Land

(3:44)

- Billy Harvey
People Don't Protest Enough

(3:56)

- Catholic Action
Hive

(2:30)

- Pleasure Venom
Can Not Wait

(4:45)

- Pure Adult
Weatherman

*

(1:52)

- Broken Baby
Never Change

(4:41)

- Snowy Band
I Pray for You

(3:21)

- Sammy Strittmatter
Cosmic Sigh

(3:57)

- DG Solaris
Chasing Skylines

*

(3:17)

- The Eyyes
Born in the USA

(1:11)

- Thyroids
Hey Love

*

(Acoustic) (3:03) - Emma Kupa
Books

(3:58)

- Sleepy Zuhoski
I'm Human

*

(Acoustic) (3:39) - Sunny War
Floating Seeds

(2:17)

- Emma Russack
In Circles

(3:39)

- Marty Willson-Piper
Surrender Shuffle

*

(3:06)

- Diesel Park West
Relief

(3:30)

- Salim Nourallah
No Brain, No Pain

(4:01)

- SPQR
S20P

*

(2:41)

- Modpods
Machine

(3:35)

- Tummyache
Skin Sparks

*

(2:26)

- Sugar Fïtz
Praying for Rain

(4:47)

- Alex Dezen
Boundries

*

(2:46)

- Xuan
The Moment

*

(3:46)

- Human Barbie
You Thought You'd Be in Heaven

(3:53)

- NHD
* Previously Unreleased Track
Releases
Streaming & Digital Download - Palo Santo Records (USA) - June 19, 2020 - Available at Bandcamp
Notes
Write-up from the label:
Juneteenth: June 19, 1865
Otherwise known as: "Emancipation Day" or "Freedom Day"
The Emancipation Proclamation was declared Jan. 1, 1863, which meant slavery was abolished and all confederate states were ordered to free slaves. But (to no surprise) some states took a little longer to free their slaves, specifically in Texas.
FINALLY, on June 19, 1865, Gordon Granger came to Texas, saw those who were still slaves in Galveston and read them the proclamation, THUS FREEING THEM.
The celebration of this holiday was banned in public spaces due to segregation laws in the late 1800's. Folks, instead, gathered in private to celebrate.
We're going to CELEBRATE by releasing a very cool compilation we've been working on, comprising of some very cool artists, this Friday, June 19th available exclusively on the music platform we believe to be the most supportive to artists, Bandcamp. 100% of the proceeds will be donated to NAACP and a Black Lives Matter organization in most need of donations. Bandcamp is also donating 100% of their revenue share to NAACP.
Keep fighting. Keep talking. Keep supporting each other.