STEAL DIS DAT (1988)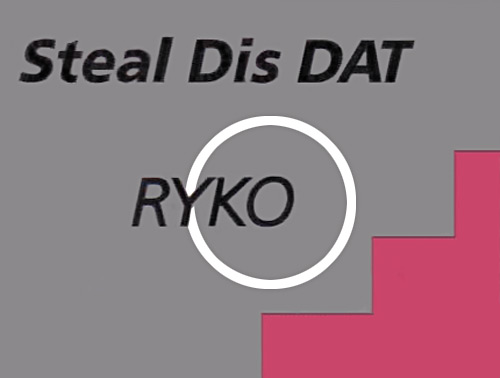 Tracks
You Won't Let Me Go - Josh White with Robin Batteau
I Feel Like Breaking Up Somebody's Home - Johnny Adams
Ase - King Sunny Ade
Moose the Mooche - Phil Woods/Chris Swansen
Something Spiritual - Mahavishnu John McLaughlin
Theme from Rocky and Bullwinkle - Birdsongs of the Mesozoic
On The Tip Of My Tongue - Marty Wilson Piper
It's You I Love - Beausoleil
Cinnamon Flower - The Charlie Rouse Band
If Not for You - Richie Havens
Jerkin' Back and Forth - Devo
Mica - Mission of Burma
Cops Too - Keith Levine
Da Birg Song - Howard Wales and Jerry Garcia
Once in a Very Blue Moon - Nanci Griffith
Lucy Cassidy/The Bletherskate/The Smith of Chilliechassie - The Tannahill Weavers
I've Got a Feeling - The Screaming Tribesmen
Electric Hoedown - Dweezil Zappa
Releases
DAT - Rykodisc RDAT 00100 (UK)
Notes
From a Rykodisc catalog:
The affordable D.A.T. is here—60+ minutes of Rykodisc music and with a list price of under $20, Steal Dis Dat promises to do for Digital Audio Tape what the silicon chip did for pocket calculators!
From Wikipedia:
Digital Audio Tape (DAT or R-DAT) was a signal recording and playback medium developed by Sony and introduced in 1987. In appearance it is similar to a compact audio cassette, using 4 mm magnetic tape enclosed in a protective shell, but is roughly half the size at 73 mm x 54 mm x 10.5 mm. As the name suggests, the recording is digital rather than analog. DAT has the ability to record at higher, equal or lower sampling rates than a CD (48, 44.1 or 32 kHz sampling rate respectively) at 16 bits quantization. If a digital source is copied then the DAT will produce an exact clone, unlike other digital media such as Digital Compact Cassette or non-Hi-MD MiniDisc, both of which use lossy data compression. Like most formats of videocassette, a DAT cassette may only be recorded on one side, unlike an analog compact audio cassette. Although intended as a replacement for audio cassettes, the format was never widely adopted by consumers because of issues of expense and concerns about unauthorized digital quality copies. The format saw moderate success in professional markets and as a computer storage medium. As Sony has ceased production of new recorders, it will become more difficult to play archived recordings in this format unless they are copied to other formats or hard drives.