THE HITCHERS OF OZ (2009)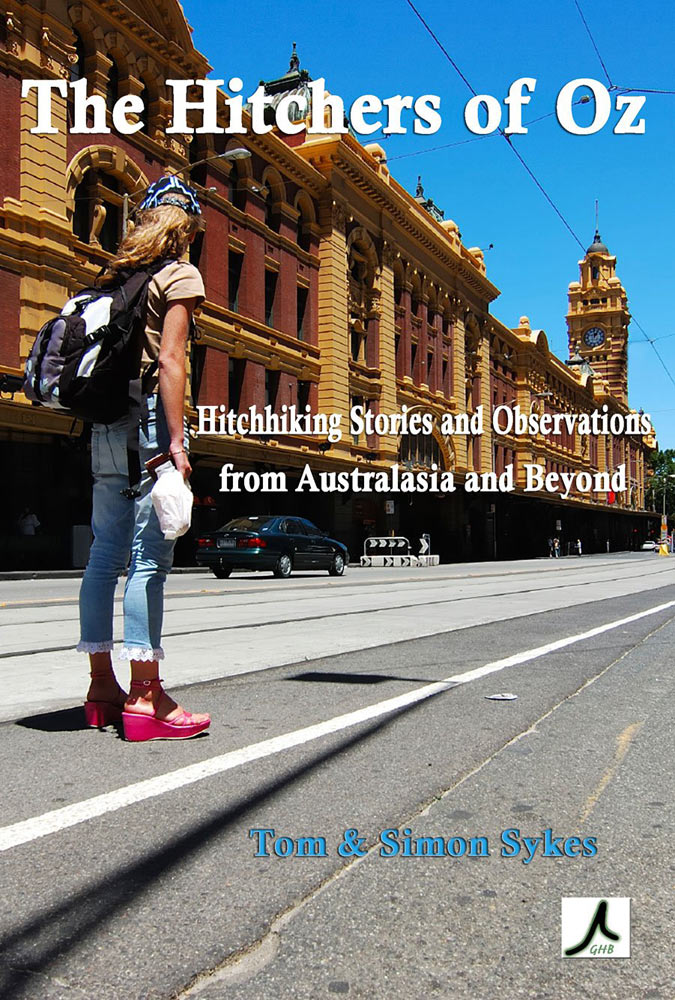 Hitchhiking Stories and Observations from Australasia and Beyond
by Tom and Simon Sykes
Marty Willson-Piper contributed a 4-page story, titled Keep On Truckin', to this book. it appears on page 143 in the Part III: Hitching Further Afield section.
Excerpt:
Hitchhiking in 1978 was a rather different beast than it is today. It was a means to an end. It didn't seem dangerous, even if it maybe was. Most people who picked you up were purely kind, although I did have a couple of dicey moments out there, trapped in a car at the driver's mercy. Having said that I never did think there was much chance of being attacked. Sitting in a car generally amongst traffic or on a motorway, dropped off in another public place. A strapping lad, I was an adventuring adult child of 19, the same age as my daughter now, and there was simply no option but to travel by thumb. It may be appropriate to point out at this stage that when years later I arrived in Australia for temporary residency, I was most perplexed to see Australian hitchhikers not using their thumb at all but sticking out a straight finger to signal. I wondered how that had developed, as to me the thumb was an iconic motif.
In those days a popular image was the Keep on Truckin' T-shirt, an icon of the day that had a striding cartoon character in flared jeans or loon pants. Truckin' across the countryside to get to a festival probably or perhaps to find a way beyond the stifling atmosphere of society or just moving like a young contemporary hippy gypsy from place to place spreading good vibes and Led Zeppelin. Hitchhiking was the spirit of the times.
If you have hitchhiked often you are likely to have many stories of kindness but the occasional awkward moment rears its head. Without trying to nail this too specifically, I would think it was probably something like Septemberish 1978.
I had been on a journey or two like this before and was rather addicted to heading out into mainland Europe with a rucksack and a guitar. Heading towards the sunnier south, whether it be France or Spain. On other trips it had been grape picking in Maury ner Perpignan, or peach and pear picking in Lerida in Northern Spain. This time I frankly can't quite remember where I was heading except to say out of England with little money. All my trips had been full of stories, this is just a humorous scary small one.
I had caught the ferry from Dover to Calais. It was dull and rainy and although I hadn't made it far my journey had begun. I was out of England. It was a different language. I had my trusty phrase book and an enthusiasm for being there unequalled, despite having nowhere to sleep and only some vague idea of where I might be heading.
Press info:
"World famous actor Sam Neill and rap legend Chuck D rub shoulders with writers like JP Donleavy and Carmel Bird. Physicists, business leaders, publishers, political activists, soldiers, poets, athletes and comic book creators are brought together by their common experience of hitching a ride sometime in the past. Since the '60s and '70s - the heyday of hitching - people have thumbed rides worldwide. Money never changes hands, but all manner of social transactions take place. These tales will open your eyes and take you back - or forward. Just when you think you've heard it all, turn the page. You'll discover you haven't!"
Tom Sykes was born in 1979 and graduated from the University of East Anglia in 2001. He has published short fiction and articles in magazines in the US, UK, Canada and Southeast Asia, as well as in international anthologies such as Small Voices, Big Confessions (2006). He is a regular performer at spoken word events and his recordings have appeared on audiobookradio.net and Wildfire Radio. He is a member of the British Society of Authors and a life member of the Authors' Licensing and Collecting Service. He is associated with the international creative bureau omnimoda.com. Simon Sykes is an author, linguist, musician, designer and carpenter who hitchhiked extensively during the 1970s.
Releases
Paperback - Glass House Books/Interactive Publications,
ISBN: 978-1921479199, 8.9" x 6", 248 pages (Australia) - May 15, 2009
Paperback - ReadHowYouWant (Large Print Edition),
ISBN: 978-1458748614, 10" x 7.8", 368 pages (Australia) - Dec. 23, 2009