THE BLURRED CRUSADE SHORT FILM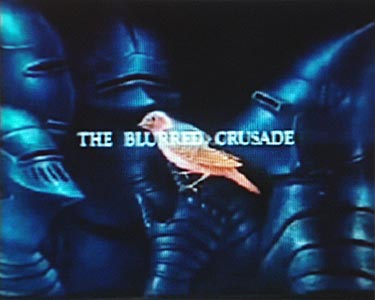 In early 1982 The Church produced a short film to be played before features in cinemas across Australia in April 1982. It consisted of two videos for songs from their new album The Blurred Crusade. Together, the videos for "You Took" and "Almost With You" obliquely depict a knight (Steve Kilbey in a suit of armor) on a "quest" of sorts, intercut with shots of the band playing in various outdoor locales or sitting around a table gazing intently at a crystal ball. The two videos appeared together on the band's first Australian video collection, titled The Church, in 1985. They later appeared together on the 2002 EMI 2-disc reissue of The Blurred Crusade (EMI 7243 5 39496 0 0), on disc 2 in Quicktime format.
Videos
(click camera to see the video, click title for details)
Notes
The following blurb about this mini-film appeared in the Feb. 27, 1982, issue of SCENE magazine:
The Church are going to the movies. The band is producing a short film, featuring tracks off their new album, The Blurred Crusade, which will be shown as a support feature in cinemas. Members of the Church have turned actors to appear in the movie.
Stuart Coupe wrote about this short film in a gushing article on The Church that appeared in the Sydney Morning Herald on Feb. 28, 1982:
The Church have just completed a 35mm movie based around two of their songs, You Took, and Almost With You, which will be used for both TV and movie theatres.
"We spent two days in a place outside of Melbourne filming it," guitarist Marty Willson-Piper told me last week.
"We did three shoots in two days, starting at 5am and going through till nightfall.
"After all that I think the band appear for about a minute and the rest of it is visual images. The whole experience really made me wonder why people would ever want to be actors."
Stuart Coupe also mentioned the short film in the March 5, 1982, issue of RAM magazine in an infamously unflattering interview with Steve Kilbey:
Contrary to the public image, The Church fight a lot. Peter Koppes left before Christmas but rejoined. In Melbourne there's meetings about a proposed film based on two of the band's songs. Tension rises. Anger flares over ideas.