ENMORE THEATRE 1992 CONCERT (2001)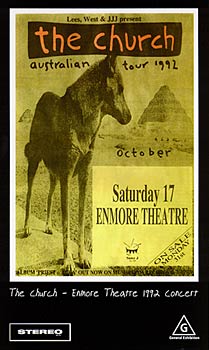 This video was available direct from the band via their Church Merchandise web site in PAL VHS and NTSC DVD formats. It has since been deleted.
Set List
Intro Music: Film
Aura
Ripple
Myrrh
Metropolis
Destination
Fly
Shadow Cabinet
North, South, East and West
Sisters
The Disillusionist
Grind
Lost
Old Flame
Hotel Womb
Reptile
First Encore:
Pharoah
Chaos
Second Encore:
You're Still Beautiful
Tantalized
Credits
Steve Kilbey - Vocals, Bass Guitar
Peter Koppes - Guitar, 12 String Guitar, Backing Vocals
Marty Willson-Piper - Guitar, 12 String Guitar, Backing Vocals
Jay Dee Daugherty - Drums, Electronic Percussion
Filmed by: Jane Cox
Desk Sound: Greg Courtney
Lighting: Trevor Johnstone
Post Production: Eclipse
Cover Photograph: David Katzenstein
Design and Layout: Digital Kitchen
Releases
(rev. Jan. 28, 2019)
VHS - MGM FAN001N (Australia) - PAL
VHS - MGM FAN001N (Australia) - NTSC
DVD - MGM DVD001N (Australia) - NTSC, all region - Nov. 15, 2004
Notes
According to Sue Campbell, "For those interested in the live video and what it's like, Peter said that the quality is what you would expect from a VHS camera at the back of the theatre and no lighting compromises for the sake of filming and presents the show in a fairly wide panarama. The camera moves are by a well versed fan of the band in a live situation and follows the action quite well. What makes it better than the bootlegs is the sound from the desk which was expensive to synchronise with the visuals. It's a great document of the band."
"Disclaimer: Imperfections exist in this programme due to the deficiencies of the recording formats."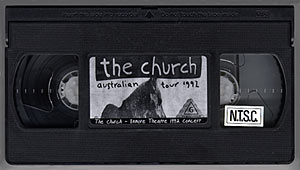 Reviews & Comments