PROMO ONLY ALTERNATIVE DANCE 1987-1989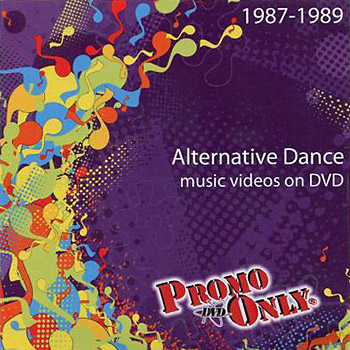 Contents
Personal Jesus

(3:46)

- Depeche Mode
Chains Of Love

(3:39)

- Erasure
So Alive

(4:06)

- Love & Rockets
Beds Are Burning

(4:37)

- Midnight Oil
True Faith

(4:20)

- New Order
Down In It

(12" Mix) (6:47)

- Nine Inch Nails
It's The End Of The World As We Know It (And I Feel Fine)

(4:05)

- R.E.M.
Higher Ground

(3:22)

- Red Hot Chili Peppers
A Girl Like You

(4:20)

- The Smithereens
Breakout

(3:45)

- Swing Out Sister
When Smokey Sings

(5:15)

- ABC
Fascination Street

(4:16)

- The Cure
We Care A Lot

(4:03)

- Faith No More
She Drives Me Crazy

(3:36)

- Fine Young Cannibals
World Shut Your Mouth

(3:04)

- Julian Cope
Everyday Is Like Sunday

(3:31)

- Morrissey
Murderous

(3:34)

- Nitzer Ebb
Left To My Own Devices

(4:46)

- Pet Shop Boys
The Different Story

(3:51)

- Peter Schilling
Heartbreak Beat

(4:05)

- Psychedelic Furs
Mandinka

(3:47)

- Sinead O'Connor
Doctorin' The Tardis

(2:22)

- The Timelords
I Still Haven't Found What I'm Looking For

(4:30)

- U2
Dear God

(3:40)

- XTC
Like The Weather

(3:56)

- 10,000 Maniacs
Hey Ladies

(3:49)

- Beastie Boys
Under The Milky Way

(4:57)

- The Church
Strangelove

(3:45)

- Depeche Mode
Veronica

(3:32)

- Elvis Costello
A Little Respect

(3:27)

- Erasure
Postcards From Paradisee

(3:38)

- Flesh For Lulu
Real Wild Child

(3:26)

- Iggy Pop
New Sensation

(3:41)

- INXS
Lessons In Love

(4:01)

- Level 42
Living In A Box

(3:17)

- Living In A Box
Cuts You Up

(4:14)

- Peter Murphy
The Passenger

(4:05)

- Siouxsie & The Banshees
Sowing The Seeds Of Love

(5:27)

- Tears For Fears
Obsession

(12" Mix) (6:33)

- Xymox
Releases
DVD - Promo Only [no catalog number] (USA) - NTSC
Notes
From the Promo Only website
It's the best of 80s dance-pop music videos on DVD from the pros at Promo Only!
Alternative Dance brings to light literally dozens of previously unavailable videos from one of music's most unique and exciting eras. This is the most essential collection of lost dance-pop music video classics available today on DVD! Be sure to stay tuned, there's more collections to be released in the near future!
Available individually as a subscription addition, the first release of Alternative Dance (1987-1989) include videos from New Order, Erasure, Love and Rockets, INXS, Depeche Mode, Peter Murphy, Psychedelic Furs, The Timelords, and more!