RAGE - MOST CHOSEN (2008)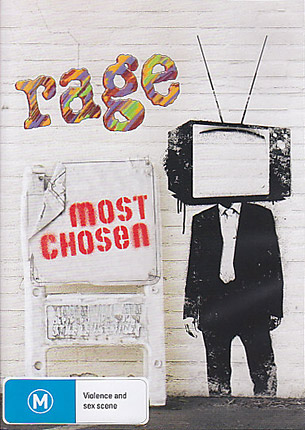 Contents
(I'm) Stranded - The Saints
100% - Sonic Youth
Rush - Big Audio Dynamite II
Rocks - Primal Scream
Are You The One? - The Presets
Firestarter - The Prodigy
Sheela-Na-Gig - PJ Harvey
The Killing Moon - Echo & The Bunnymen
Evidence - Faith No More
She Cries Your Name - Beth Orton
Rise - Public Image LTD
Under The Milky Way - The Church
Ashes To Ashes - David Bowie
Ghost Town - The Specials
Shivers - The Boys Next Door
Monkey Gone To Heaven - Pixies
Miss World - Hole
Alright - Supergrass
Lust For Life - Iggy Pop
Hey Boy Hey Girl - The Chemical Brothers
Bucky Done Gun - M.I.A.
Antmusic - Adam Ant
Lazyitis - Happy Mondays
Close To Me - The Cure
Island In The Sun - Weezer
Rabbit In Your Headlights - UNKLE
Numb - Portishead
Ms. Jackson - OutKast
Freedom Of '76 - Ween
This Is Hardcore - Pulp
Around The World - Daft Punk
Frontier Psychiatrist - The Avalanches
Chase The Dragon - Beasts Of Bourbon
Positive Bleeding - Urge Overkill
Son Of Sam - Elliott Smith
Better Be Home Soon - Crowded House
Just Like Honey - The Jesus & Mary Chain
Berlin Chair - You Am I
That's Entertainment - The Jam
Cattle And Cane - The Go-Betweens
Releases
DVD - ABC Muisc/EMI 5313823 (Australia) - PAL, 153 min.
Notes
This review by Bernard Zuel appeared in The Age:
3-1/2 stars
THESE are apparently among the 40 most popular selections by guest Rage programmers. Can we discern patterns? We can say that the preference with local bands is for off-the-main tracks (except for the Church, maybe) with the brutalist Beasts of Bourbon, the punked Saints, the suicidal Boys Next Door, the sample-heavy Avalanches, the hard-edged electro-pop Presets and the SNAG Go Betweens appearing while, say, INXS, Cold Chisel, Midnight Oil and Hunters and Collectors are noticeably absent. Disturbing videos, such as UNKLE's Rabbit In Your Headlights are relatively lightly represented (no Aphex Twin? It seems to come up regularly on my viewings of Rage) as are the more overtly amusing fare. Instead, you get Big Audio Dynamite's Rush; OutKast's Ms Jackson and Crowded House's Better Be Home Soon. Still, just like experiencing Rage live, it's hard to stop watching as you think, "Just one more then I'll get on with life".