HOLOGRAM OF BAAL (1998)
Credits
The Church are Steven Kilbey, Peter Koppes, Marty Willson-Piper, Tim Powles
All instruments played by The Church except:
   Radiotronics on tracks 1, 2, 3, 4, 8 & 9 by William Bowden
   Violin on tracks 3 and 10 by Linda Neil
Written and Produced by The Church
Recorded and Mixed by Tim "spaceman" Powles
Recorded @ Karmic Hit Studio
Assisted by Chris Campbell
All tracks mixed @ Charing Cross Studio, except trks 1 & 7 @ Glebe Studio,
with Peter Koppes, assistant engineer Chris Campbell,
and trk 4 @ Karmic Hit
Mastered by William Bowden @ Festival Studios
Photography: Peter Holmqvist, Julien Klettenberg, Anastasiia Fitter
Graphic Design: Graffoto ab www.graffoto.se
Layout US version: Cynthia Fetty
Representation: Brian Hallin, Globeshine Management, 101 Chamberlayne Road, London, NW10 3ND England
Releases
(rev. Jan. 26, 2019)
2CD - Cooking Vinyl/Festival D31886 (COOK CD 155) (Australia) - Limited Edition - Cover
Includes the "Bastard Universe" bonus disc (see below)
CD - Cooking Vinyl/Festival D31886 (COOK CD 155) (Australia)
2CD - Cooking Vinyl COOK CD 155 (UK) - Limited Edition - Cover
Includes the "Bastard Universe" bonus disc (see below)
CD - Cooking Vinyl COOK CD 155 (UK)
CD - Cooking Vinyl COOK CD 155 (UK Promo)
Disc only in clear plastic sleeve with sticker: "Promotional Copy Only, NOT FOR RESALE"
CD - Cooking Vinyl CKV 13322 (Italy)
2CD - Thirsty Ear thi 57054.2 (USA) - Limited Edition - Cover
Includes the "Bastard Universe" bonus disc (see below)
CD - Thirsty Ear thi 57054.2 (USA)
CD - Thirsty Ear thi 57054.2 (USA Promo)
CD - Cooking Vinyl/True North TNSD 0171 (Canada) - Sept. 8, 1998
Notes
There is an untitled poem

a hologram of Baal
a box of chocolates from Zeus
and a rose.

Achilles: cloudy monday morning depressions
kisses ricocheting off his armour like this (soft deflective sound).
Lazarus: Jesus, you really had me worried there for a moment.
Lucifer examines no-claims bonus, sighing smoke.
The serafim remembers my delicate crimes, my Christmas present.
Oh wonder, ancient days
the horse cults, hoof worshippers, mane men
Set, the great serpent god curled round the worlds throat,
gorged on virgins and snake charmers
Louisiana really exists, so does the great machine
churning out the centuries, and endless variations of rock gods
Spellman and Gaze from Bastard Universe
pelvis thrusting, riff ripping oracles signed to Apollo
six string bass found in the ruins of Nineveh.
The audiences start to disperse.
"the star has already left the building!"
by now, probably the planet...
OK,
Jaguars, Glocaine, Fenders, white skinned, cold blooded
alcoholic Aphrodites, large lumps of money, small pieces of moon
traces of the murderers DNA, scotch mist and dutch courage
the sheerest of nerves, daily maelstroms, sturm und drang
all of this, and more, have we served... up
I mean, c'mon...

by Steve Kilbey in the liner notes.
A working title for this album was Hologram of Allah. Other titles considered were Au Revoir Por Favor and Ourselves But Not Each Other.
The mask shown on the various covers was from Steve Kilbey's personal mask collection. It is similar to the plastered skulls, with shells replacing the eyes, left near the site of ancient Jericho by the Pre-Pottery Neolithic B culture (7th-6th millennium BC).
Plastered Skulls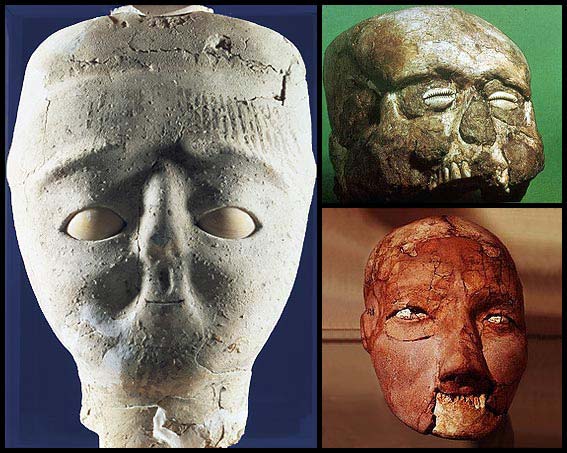 Reviews & Comments
BASTARD UNIVERSE (Bonus Disc)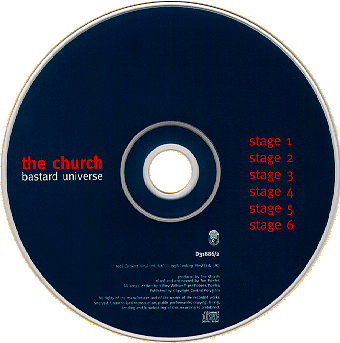 This all instrumental jam disc came free with initial copies of Hologram Of Baal.
Credits
Written and Produced by The Church
Mixed and Engineered by Tim Powles
Notes
Total running time is 79:18. The UK and USA editions of the bonus disc only have "Stage One" through "Stage Four" printed on the label but they have all six tracks. The Australian (Festival) release has all six listed.
Reviews & Comments