PRIEST = AURA (1992)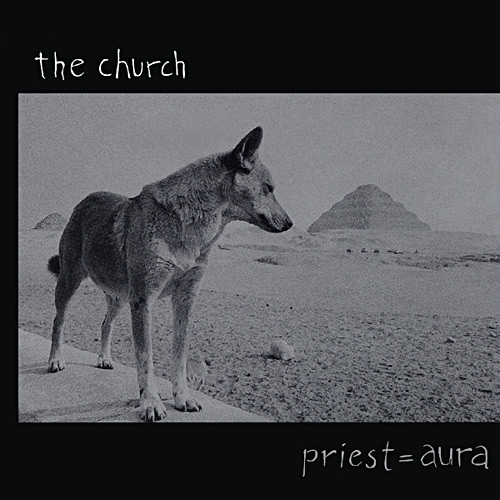 Credits
Jay Dee Daugherty (Drums)
Peter Koppes (Guitar, Vocals)
Marty Willson-Piper (Guitar, Vocals)
Steven Kilbey (Lead Vocals, Bass)
Produced by The Church and Gavin MacKillop
Recorded by Gavin MacKillop
Art Direction: Maude Gilman
Photograph: David Katzenstein
Lettering: John Wujcik
Releases
(rev. Mar. 20, 2021)
LP - Arista 212643

[on sleeve]

/ 212 643

[on disc labels]

(Germany)
2LP - Plain Recordings plain207 (USA) - 180 Gram Vinyl, "wide spine" jacket - March 1, 2016
  Sourced from a 24/192 transfer off the 1/2" flat master tape.
  Mastering by George Horn and Anne-Marie Suenram at Fantasy Studios.
  Reissue remastering by Gary Hobish at A. Hammer Mastering.
Side A

(click a title for details)

Side B

(click a title for details)

Side C

(click a title for details)

Side D

(click a title for details)

Film (instrumental)

2LP - Music On Vinyl MOVLP2689 (Netherlands) - 180 Gram White & Black Swirled Vinyl, Numbered Limited Edition of 1500 - March 19, 2021 - Info
Same track arrangement as the Plain Recordings version above.
CASS - Mushroom/White TVC 93356 (RMC 53356) (Australia) - BASF Chrome, Dolby
CASS - Arista 07822-18683-4 (USA) - March 10, 1992
CASS - Arista 07822-18683-4 (Canada)
CASS - Arista ACP 8683 (USA Promo) - Advance Cassette - Sleeve
CASS - Arista 412643 (Germany) - March 23, 1992 - Dolby
CASS - BMG Ariola 212/412/262 643 (Germany Promo) - Chrome
CASS - Arista BMG 412643 (Italy) - Label Code: LC 3484 - Dolby
CD - Arista ARCD-8683 (USA)
CD - Arista 07822 18683-2 (USA) - March 10, 1992
Variant 1: Matrix:

07822186832 2/92 2DA4


Variant 2: Matrix:

DISC MFG, INC. (H) W.O. 19566-1 07822186832

CD - Arista 07822 18683-2 / D 163618 (USA) - BMG Direct Marketing Club Edition
CD - Arista 07822 18683-2 (Canada)
CD - Mushroom/White TVD93356 (RMD53356) (Australia)
Some copies of the CD are picture-discs, white with a close-up of the dog's head - Disc
CD + CASS - Mushroom/White TVD93356 (RMD53356) (Australia)
  Includes Ripple Cassette - Mushroom C 11098 (Australia)
Issued in a cardboard box (13" x 14.5" x 2.5") containing the CD and jewel case + cassette and the cover for the cassette single.
2CD - Mushroom/White TVD93356 (RMD53356) (Australia)
  Includes A Quick Smoke At Spots Mushroom d 26058 (Australia)
With large round sticker on front: 2 Albums for the Price of One / contains "A Quick Smoke At Spot's" (16 Rarities)
Some copies of the Priest = Aura CD are picture-discs, white with a close-up of the dog's head - Disc
CD - Mushroom MUSH32382.2 (Australia) - Reissue
CD - Arista 186832 (Europe)
CD - Arista 262643 (Germany)
2CD - EMI 7243 4 77617 2 0 (Australia) - July, 2005 - Reissue, Remastered
  Memorabilia courtesy of Naomi Diamond/Mod Lang Achives
  Repackage designed by Rachel Gutek @ guppyart
  Repackage coordinated by Vicky Vogiatzoglou
  Remastered by Don Bartley at Studios 301, Sydney, Australia
  Bonus Disc Tracks

(click a title for details)

Amsterdam sessions 1987

Drought

(3:20)

 –  /
Unsubstantiated

(3:31)

 –  /

CD - Second Motion Records CD-SMR-030 (USA) - Feb. 2011 Reissue - gatefold card sleeve - Limited Edition of 1000


  With a lyrics booklet. CDs are picture-discs with a close-up of the dog's head and the pyramid in negative.


  Includes the following bonus tracks

(click a title for details)

Fog  – 

CD - Second Motion Records CD-SMR-030 (USA) - 2011 Reissue - gatefold card sleeve
Identical to above but instead of a lyrics booklet this includes a booklet of photos with extensive liner notes by Marty Willson-Piper.
Includes the same two bonus tracks as above.
CD - EMI Music Australia 5099991 818423 (Australia) - 2011 Reissue - gatefold card sleeve
Identical to Second Motion Records CD-SMR-030 directly above.
Includes a booklet of photos with extensive liner notes by Marty Willson-Piper.
CD - Eastworld Recordings EW0102CD (UK) - Jan. 29, 2013 - Reissue
Notes
Arista Records issued a Priest=Aura Press Kit.
The cover photo was taken by David Katzenstein in 1984 in Saqqara, Egypt. To the right of the dog's face is the stepped Pyramid of Djoser (aka Pyramid of Zoser), the first Egyptian pyramid, and behind the dog is the Pyramid of Userkaf. Further right (not pictured) is the Pyramid of Unas.
A common misconception is that the dog on the cover is a dingo. It is not. Rather, it's a feral Egyptian dog of indeterminate breed, common at the tourist spots. Dingoes are native to Australia.
Reviews & Comments
PROMO CASSETTE (1992)
Reportedly some Australian Promo CDs of Priest=Aura [Mushroom/White TVD93356 (RMD53356)] came in a box with a different cassette, not the Ripple single [Mushroom C 11098], containing:
Program is repeated on both sides.