TIN MINE (2006)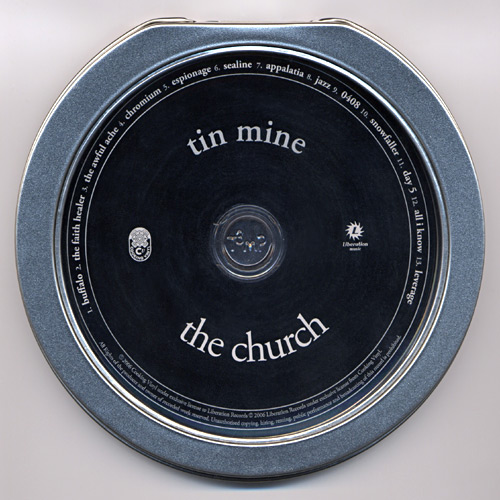 * Recorded live in Sydney at @Newtown RSL, Dec. 11, 2005 (25th Anniversary show).
Credits
All songs written/played/produced by Kilbey/Koppes/Powles/Willson-Piper.
Engineered in various incarnations by Powles/Trump/Brebach/Grigsby/Howard.
Additional musicians Jane Seymour/David Lane/Clayton Dooley.
Recorded and mixed at Spacejunk/Dodgy/The Vault/Rancom St/The Orange Room/Karmic Hit/Charing Cross/Glebe Studio, Sydney, except tracks 2, 3, 4 and 5 at The Blue Room in Gåvle, Sweden and track 3 Od's Rpm NYC.
Published by Peer/Mushroom/Sony/Universal/Cooking Vinyl/Control.
The Faith Healer written by Alexander Harvey/Hugh Mckenna, published by Sony Music.
Contact:
  management@thechurchband.com
  www.thechurchband.com
  http://homepage.mac.com/fipster/church/index.html
Releases
CD - Cooking Vinyl/Liberation Music [No Catalog Number] (Australia) - Mar. 20, 2006 - Limited Edition of 1000, in tin case
CD - Cooking Vinyl/Liberation Music [No Catalog Number] (Australia) - cardboard sleeve - Cover
Notes
First 1000 came packaged in a round polished tin case with a plastic window through which the disc is visible, and were given away with tickets to the Uninvited, Like The Clouds album launch shows in March, 2006. The remaining copies were given away to those who had helped the band over the years. By popular demand, more copies (in cardboard sleeves) were produced and sold exclusively at their concerts.
Reviews & Comments