THE CHURCH: A LIVE INTERLUDE (1993)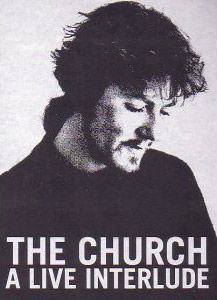 Tracks
Side 1:
When You Were Mine
Tristesse
North, South, East and West

[listed as "North South East West" on back cover]

Almost With You
Side 2:
Hotel Womb
An Interlude
Fading Away
Under The Milky Way
Shadow Cabinet
Side 3:
Grind
Destination
Myrrh

[listed as "Myrh" on back cover]

Reptile
Side 4 (Encore):
Is This Where You Live
You're Still Beautiful

[listed as "You're Still Beautiful Baby" on back cover]

Friction
Tantalized
Releases
2LP - World Broadcasting Corp. [no catalog number] (Australia Promo) - Numbered Limited Edition
Notes
"LIVE AT THE PALACE MELBOURNE AUSTRALIA 25.4.91 COMPLETE SHOW!" is printed on the back cover.
This is a numbered limited edition of 200, though it is believed only 150 copies were pressed (50 copies each on white, gray, and black marbelized vinyl).
LPs have blank white labels, and the matrix numbers have been scratched out.
Most of this show is also on the Jokes Magic & Souvenirs LP & CD bootleg and the A Postcard From Downunder CD bootleg.
Reviews & Comments