A POSTCARD FROM DOWN UNDER (2003)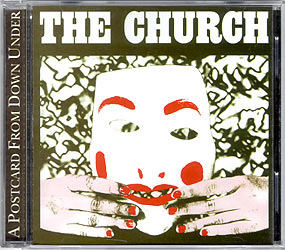 Tracks
When You Were Mine

(6:08)

Tristesse

(3:46)

North, South, East and West

(5:11) [listed as "North, South, East, West" on back cover]

Almost With You

(4:34)

Hotel Womb

(5:47)

An Interlude

(5:24)

Fading Away

(3:27)

Under The Milky Way

(5:20)

Grind

(5:45)

Destination

(5:44)

Myrrh

(4:12) [mislabeled as "Is This Where You Live" on back cover]

Reptile

(5:21)

Is This Where You Live

(10:05) [mislabeled as "Myrrh" on back cover]

You're Still Beautiful

(3:12) [listed as "You're Still Beautiful Baby" on back cover]

Friction (4:28) [Television cover]
Releases
CD - Tokashi's Castle TC52 (Japan)
    Initially a Limited Edition of 150, each copy hand-numbered on back. Later releases were unnumbered.
Notes
"AT THE PALACE MELBOURNE AUSTRALIA APRIL 1991 STEREO SOUNDBOARD RECORDING" is printed on the back cover. This was recorded on April 25, 1991.
Most of this show is also on the Jokes Magic & Souvenirs LP & CD bootleg. The full show is on the A Live Interlude 2LP bootleg.
Reviews & Comments