MTV UNPLUGGED CD-ROM (1995)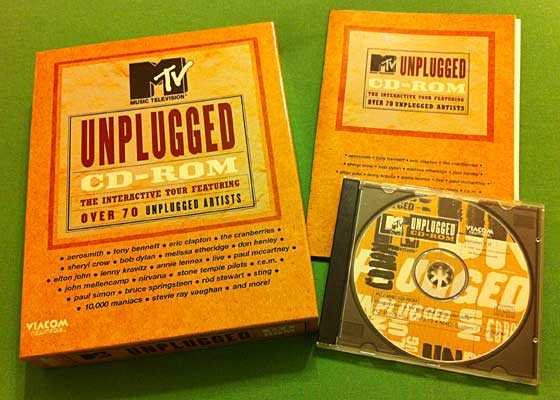 This CD-ROM chronicles the first 5+ years of the award-winning series and cultural phenomenon known as MTV Unplugged. The Church were featured in show number 6, sharing a split bill with Sinéad O'Connor. This show was recorded on January 30, 1990 at National Video Center, NYC, and first aired March 18, 1990. This CD-ROM has a page of info about the show and a brief write-up about The Church. It also plays a portion of "Under the Milky Way" from the show. It was likely released in conjunction with the MTV Unplugged Book.
Show #6 Performers
Sinéad O'Connor - Vocals
with Jules Shear - Guitar, Vocals
The Church:
  Steve Kilbey - Bass, Vocals [labeled as only "vocals" on the CD-ROM]
  Marty Willson-Piper - Guitar, Vocals [labeled as only "guitar" on the CD-ROM]
  Peter Koppes - Guitar, Harmonica, Vocals [mislabeled "drums" on the CD-ROM]
Show #6 Setlist
Under The Milky Way [The Church]
Metropolis [The Church]
Black Boys on Mopeds [O'Connor solo]
I Do Not Want What I Haven't Got [O'Connor]
First Freeze After The Fall [Shear] (written by Shear; did not air)
Rain [Shear with Willson-Piper] (written by Lennon/McCartney)
Waterloo Sunset [Shear with The Church] (written by Ray Davies; did not air)
Church Write-Up
Although their first album, Of Skins and Heart (entitled The Church in the US) was released in 1981, the Church remained relatively underground until 1988s Starfish—their sixth release which yielded their breakthrough U.S. single "Under The Milky Way." The Australian group, whose core consists of vocalist Steve Kilbey and guitarist Marty Willson-Piper, have recorded numerous albums since, not all of which have been released in the United States. In 1994 they released Sometime Anywhere.
Releases
CD-ROM - Viacom NewMedia VNM 10018 (USA)
Notes
Video: CVID 156x160 15fps 797kbps / Audio: QT PCM 11127Hz mono 178kbps
System Requirements: PC: Windows 3.1 or 3.11 / MAC: System 7.1 or higher