MISC. RADIO SHOWS
RARITIES - For Broadcast September 19-23, 1988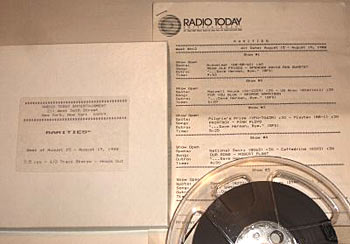 Tracks
White Summer

(early version of Zeppelin's "Black Mountain Side")

- The Yardbirds
I Am A Rock

(Simon & Garfunkel cover)

- The Church
Sad Day

("19th Nervous Breakdown" B-Side)

- The Rolling Stones
Twilight (Original version recorded before Boy) - U2
The Big Payback (British B-Side of "Open All Night" from Nebraska) - Bruce Springsteen
Releases
Reel-to-Reel - Radio Today Entertainment (USA)
Notes
The show was produced by Radio Today and hosted by Dave Herman. Each segment takes a look at a rare, unreleased or b-side track. Box says: Radio Today Entertainment, 211 W. 56th Street, New York, NY - 7.5ips 1/2 track Stereo - Heads out. Includes cue sheet with written information about each track.
MUSIC VIEW #82 (1990)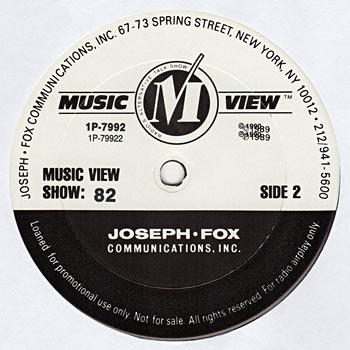 A half hour show issued in generic black cardboard record sleeves with cue sheets outlining the segment time and running time of each side. LP contains 2 shows (#81 and #82), 1 per side.
Show #82 includes an interview with Marty Willson-Piper, split in 2 parts, featuring music from "Pharaoh" (from Gold Afternoon Fix) and "Melancholy God" (from Rhyme).
Cue Sheet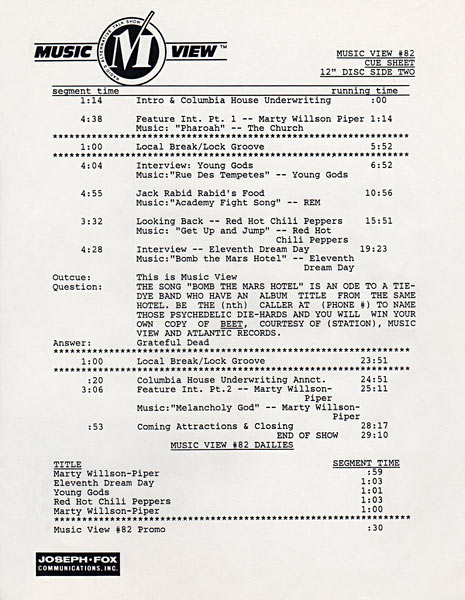 Releases
LP - Joseph Fox Communications, Inc. 1P-7992 (USA)
THE TDK NEW MUSIC REPORT (Show #31, for broadcast April 28, 1991)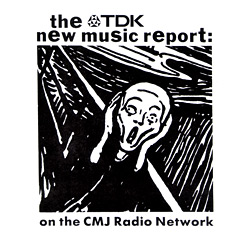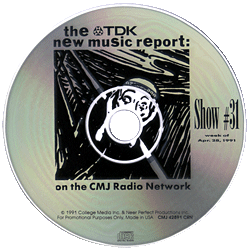 One hour show on the CMJ Radio Network hosted by WNEW-FM NY radio DJ Dan Neer. Dan can now be heard on XM satellite radio.
Includes:
Interview with Jack Frost's Grant McLennan and Steve Kilbey
Cattle And Cane - Go-Betweens
Almost With You - The Church
Providence (TDK New Music Report Exclusive Acoustic Version) - Jack Frost
Releases
CD - CMJ Radio Network CMJ 42891 CRN (USA)
THE BIG BACKYARD 1992 RADIO SERIES - Programs 17 & 18 (1992)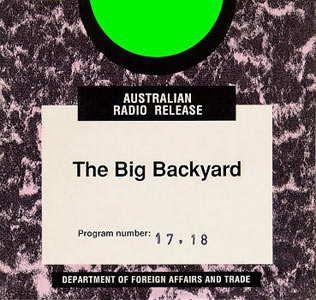 Program 17:
Walking Alone - Barry Plankton
Crossroads Of Reality - Fear Of Falling
Turn It Up - Craven Fops
Off Your Guard - Craven Fops
In Between The Sheets - Craven Fops
Summer Of Love - Tall Tales And True
Confection - Crow
Program 18:
Go Tell Your Father - The Cannanes
Nervous Kid - Maybe Dolls
Tribal Voice - Yothu Yindi
Djapana - Yothu Yindi
My Kind Of Life - Yothu Yindi
Somna - Steve Kilbey
Ripple - The Church
Releases
CD - Department of Foreign Affairs And Trade (Australia) - cardboard sleeve with cuesheet
Notes
Each program runs 30 minutes. Hosted by Mark Dodshon.
OUT OF ORDER (Show #OT 94-24, for broadcast the weekend of June 11, 1994)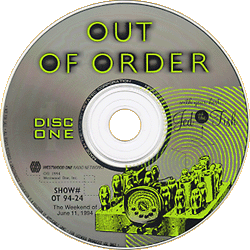 Two hour show hosted by KROQ radio DJ Jed The Fish. The show featured the weekly top 20 alternative songs, presented out of order, plus interviews and other songs of relevance (such as this content by The Church).
Includes:
"Time Warp" Interview with The Church (Steve Kilbey)   MP3 (64 kbps, 0.5 MB)
Under The Milky Way
Releases
DOWN UNDER 3 (April 23, 1995)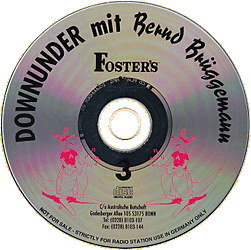 Hosted by Bernd Bruggemann. CD is one continuous track.
Tracks
Metropolis - The Church
September 13 - Stephen Cummings
The Best - Jimmy Barnes & Tina Turner
The Weight - Jimmy Barnes & The Badloves
Green Limousine - The Badloves
No Promises - Icehouse
Street Cafe - Icehouse
Shakin' The Cage (Techno) - Icehouse
One Word - Baby Animals
Midnight Man - Flash & The Pan
Friday On My Mind - The Easybeats
Love's Gonna Bring You Home - Rockmelons
The Rumour - Olivia Newton-John
Missing You - Smudge
Releases
CD - DOWNUNDER 03 CDM01 (Germany)
THE BIG BACKYARD 1997 RADIO SERIES PART ONE - Programs 13 & 14 (1997)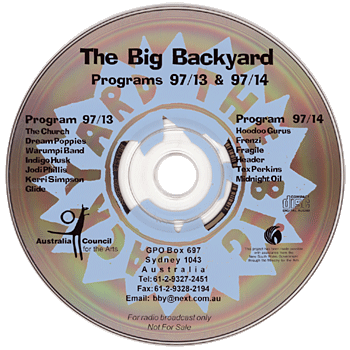 This is CD 7 of the 7-disc "The Big Backyard 1997 Radio Series Part One" set. - Cover

| Inside

Program 13
(29:24)

:
Comedown - The Church
Messed Up - Dream Poppies
Wayathul - Warumpi Band
Girlfriend in Oklahoma - Indigo Husk
Smile - Jodi Phillis
Speak - Kerri Simpson
What Do I Know? - Glide
Program 14
(28:04)

:
If Only - Hoodoo Gurus
No Sense - Frenzi
Dream Come True - Fragile
Restoration - Header
Splendid Lie - Tex Perkins
Advance Australia Fair/Drums Of Heaven - Midnight Oil
Releases
CD - Australia Council for the Arts BBY1213 (Australia)
Notes
Includes this Church song intro by host Nick Bennett:
"How ya doin', gidday lovers of new Australian music. This is Nick Bennett and we're going into The Big Backyard for the next half hour with The Church. You'll hear Warumpi Band, two young bands out of Brisbane - that's Dream Poppies and Indigo Husk - plus Jodi Phillis, Kerri Simpson and Glide. All of this is proudly presented by The Australia Council - taking new music to new audiences in more than 100 countries. One of the most revered Australian bands around the world is The Church. Their latest album is called Magician Among The Spirits, and from it, here's 'Comedown.'"