DABBLE (2001)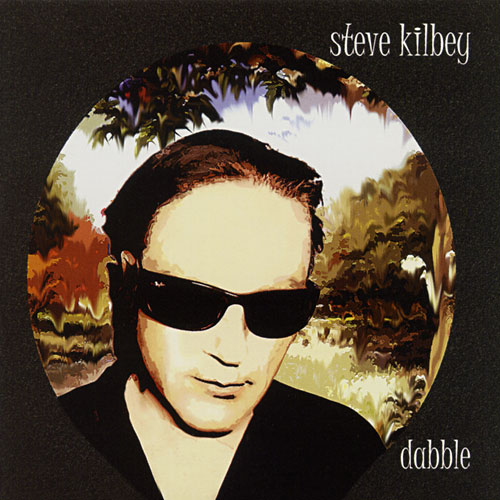 Credits
Anthony Mayan - Drums and percussion
Delroy Robert Moore - Mandolin, banjo, dobro, slide guitar
Tad Jones - Harmonica, jaw's harp, tone generator, b. vox on "China"
Steve Kilbey - "Everything else"
Produced and written by Steve Kilbey
Engineered by Tad Jones
Mixed by Tad Jones and Steve Kilbey
Recorded at The Root Cellar, Dover, Delaware, Summer 2001
Mastered (thanks to Jaqui Espie) at Studio 301 by Dave MacQuarie
Cover art by JLK, finished layout by Nick Howlett
Releases
Notes
Here is the write-up for this album from Karmic Hit:
Karmic Hit records having survived several heavy and vicious takeover bids by "the big 4" and the rollercoaster fortunes of an uncertain Wall St., finally, litigation notwithstanding, release "dabble" a compact disc by the entirely fictitious artist "Steve Kilbey".
Of course, it can now be revealed that the songs contained herein originally appeared on a bootleg by legendary Canadian/Swiss cult band "the Childs" which was entitled as "Antidisestablishmentarianism" or "Glut" but sometimes sold as "Special $11.99" in Hawaii.
The songs were mostly composed by the late troubled childstar, Jean Dharma who claims to have received the words and music in a series of trances during 1974.
For the first time they are presented here in their entirety, very possibly in their original intended running order, omitting only 2 tracks which Karmic Hit was unable to obtain the permission to use.
The songs are reputed to be all that remains of a mooted rock operetta that was to be staged as part of a "new age - free love - free form" festival put on simultaneously in Saskatoon, Geneva and Dapto, during the Seventies.
We have spared no expense in the delicate process of remastering this recording from the only remaining cassette in existence, but the listener should beware of trying to compensate artificially for the notoriously "blue" sound.
We hope this music will bring pleasure to our esteemed and discerning consumer who trusts Karmic Hit not only with their ears but with their purchasing dollar. Thank you for choosing this fine product.
Reviews & Comments