SOMETHING QUITE PECULIAR: THE CHURCH. THE MUSIC. THE MAYHEM. (2014)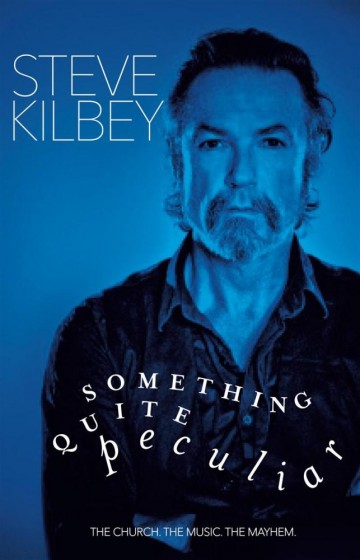 The long-anticipated memoir by Steve Kilbey.
Releases
Paperback - Hardie Grant Books, ISBN 9781742708317, 153mm x 234mm, 320 pages (Australia) - Nov. 1, 2014
Notes
From the product description:
With some 37 years in the music industry, Steve Kilbey has some stories to tell. Best known as the lead singer and enigmatic front man, songwriter, bassist of The Church, Steve has experienced both amazing international success and all the excesses that go with it, as well as a well known heroin addiction that delivered some very dark times. The Church has been a significant and constant influence on the Australian music industry and readers will be keen to hear from one of the industry's most successful, creative and long-standing key protagonists.
Come inside the world of Steve Kilbey, singer-songwriter and bassist of one of Australia's best loved bands, The Church. From his migrant ten pound pom childhood through his adolescence growing up during the advent of The Beatles, Dylan and The Stones to his early adventures in garage bands and neighbourhood jams. His misadventures with a full time job and a 9 to 5 life and wild adventures with The Church as they conquer Australia and then the world. The tours. The records. The women. And then the heroin addiction which enslaved him for ten long years. Then the two sets of twins he fathers along the way and branching off into acting, painting and writing. From snowy Sweden to a cell in New York City, from Ipanema beach to Bondi, Kilbey stumbles through his surrrealistic life as an idiot savant that will make you smile as well as want to kick him up the arse. After coming out the other side his tale is simply too good not to be told. Narrated with unusual and often pristine clarity and with much focus on his considerable musical talent. Kilbey is Australian rock and roll royalty and for the first time this is his story.
About the Author
Steve Kilbey was born in England in 1954 and came to Australia with his family at the age of 3. Kilbey began his professional music career at the age of 17 and after playing in several bands formed The Church in the late '70s. After some early success Kilbey and The Church went onto international fame when "Under the Milky Way" from the 1988 album, Starfish, achieved success in the top selling charts both in Australia and the US. Kilbey has collaborated with a vast number of other Australian musicians on various projects and has produced a number of solo works as well. Steve is also a painter, poet and music producer. In 2010 The Church was inducted into the ARIA Hall of Fame. Steve Kilbey currently lives in Bondi, Sydney.
Steve wrote about this book in his Facebook page on Sept. 8, 2014:
the dirty rotten lowdown
the truth the whole truth
and nothing but a pack of lyres
my memmy-wahs
my auto mobile bio graphic
my lifestyle revealed by close sauces and family fiends
you'll gasp as i take drugs
you squirm as i crack on to gorgeous groupies
you'll cheer as i straddle arenas strumming my fender bent bass
you'll vomit as i crawl out of rehabs
you'll lose count as i have one set of triplets after another
you'll snigger as i am stabbed and murdered
you'll sigh as i'm resurrected
you'll groan as i'm rude to chinless beerswilling baked bean and sausage eating english journalists who think the church are rubbish
you'll clap wildly as i bring civilisation to barbarians
you'll fall asleep as i rabbit on about my idiot/savant-ness
you'll touch yourselves in naughty places when you see the exclusive photos of me as a fey fop teenage twit with a big zit
what a book
what a career
what...was i saying?
A long excerpt from the book was posted on themusic.com.au on Oct. 31, 2014.
Steve wrote in his blog about this book and the book tour around Australian on November 11, 2014.
A review of the book by Robert Dean Lurie, author of the biography No Certainty Attached: Steve Kilbey and The Church, was posted on liberty21.org on March 5, 2015.