SONG FOR THE ROAD (2012)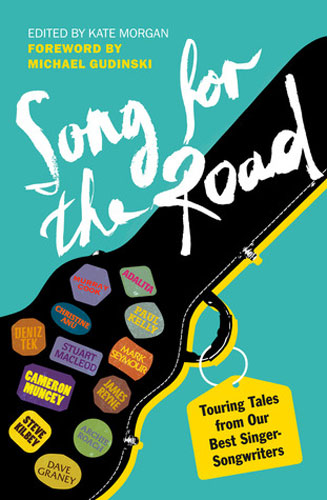 Contents:
Foreword - Michael Gudinski
Cinco días en la Ciudad de México - Cameron Muncey
Savage Journey to the Rock 'n' Roll Dream - Patrick Matthews
Vietnam - Australia Day 2001 - Dave Graney
Head of Solomon Burke & other wonders - Paul Kelly
Track - Mark Seymour
No Woman No Cry - Christine Anu
Who's the Canary? - James Reyne
Drives are Long But the Pay is Shit - Gareth Liddiard
Shot in the Face - Stuart MacLeod
A Wiggly NYC - Murray Cook
Prostitute in a Silver Dress - Adalita
Abduction & attempted seduction of a birthday man - Cec Condon
Motor City - Mark Lizotte [aka Johnny Diesel]
On the Road in Italy - Deniz Tek
Rough Trade - Sam Lockwood
Tune in Tokyo - Raul Sanchez
Firsts - Angie Hart
No-more Lonely Riders (Taking Notes for the Underground) - Tim Hoey
You're Gonna Miss Me - Kim Salmon
Getting Lost in Texas - Takahiro Honda
Pits - Mick Thomas
Tonight, All Road Laws Will Be Broken - Joe McKee
Welcome to Country - Archie Roach
I Sing the Infernal Eternal Tour - Steve Kilbey
Description
Some people are lucky enough to make a living from making music, and an inevitable part of this means touring. Whether across a wide, brown land or to exotic overseas destinations, travel is a part of a working musician's life.
Song for the Road contains tales from the road from some of our finest singer-songwriters. From the moving account of Paul Kelly as an audience member watching Blues legend Solomon Burke in Edmonton, Canada, Mark Seymour's journey to a muster at Oodnadatta or the legendary drinking adventures of Cameron Muncey (Jet) in Mexico City or Adalita in LA, the four corners of the globe are covered. This expansive and insightful collection ensures that you'll never look at the people on stage in quite the same way again.
Murdoch Books "Sales Points"
Short touring tales written by well-known musicians.
With twenty-four contributors from many musical genres - pop, alternate rock, country, electronic and even the Wiggles - the book will have wide appeal.
A behind-the-scenes, all access opportunity for the reader to get into the minds and experiences of their heroes and see what it's really like to tour the world with a band.
Exotic settings: stories from all corners of the world including Vietnam, Los Angeles, Oodnadatta, Canada, Italy, Texas and Mexico City.
Cross-generational voices from the likes of Paul Kelly, James Reyne and Hunters and Collectors through to Cut Copy, Little Red and The Jezabels.
Musicians include Paul Kelly; Dave Graney; Archie Roach, Mark Seymour from Hunters and Collectors; Christine Anu; Raul Sanchez and Adalita from Magic Dirt, Patrick Matthews from Youth Group; Cameron Muncey from Jet; Tim Hoey from Cut Copy; Sam Lockwood from The Jezabels; Murray Cook from The Wiggles; Cec Condon from The Mess Hall; Deniz Tek; Gareth Liddiard from The Drones; Angie Hart from Frente; Kim Salmon from Scientists; Stuart MacLeod from Eskimo Joe; Mick Thomas from Weddings, Parties, Anything; Mark Lizotte (Diesel); James Reyne; Joe McKee from Snowman;

Steve Kilbey from The Church

and Taka Honda from Little Red.
Exclusive photos from the road.
Releases
Paperback - Pier 9/Murdoch Books, ISBN: 978-1742664989, 234 mm x 153 mm, 256 pages (Australia) - Nov. 1, 2012
Notes
Edited by Kate Morgan.
"I Sing the Infernal Eternal Tour" also appeared in Steve's 2014 memoir Something Quite Peculiar: The Church. The Music. The Mayhem. (pages 121-29).