YOUR MOTHER WOULD BE PROUD: TRUE TALES OF MAYHEM & MISADVENTURE (2009)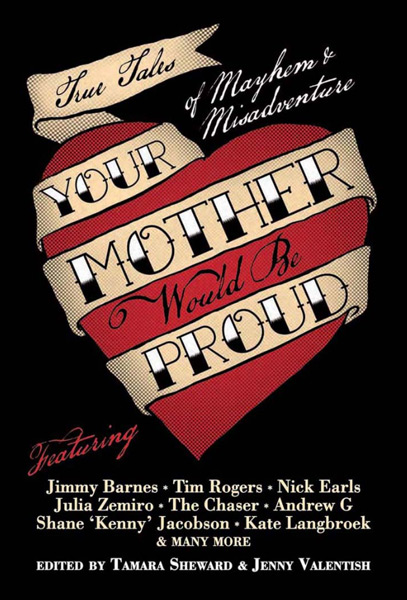 Contents:
A Few Words Straight Up - Tamara Sheward and Jenny Valentish
Jim Morrison and the Deev Shelf - Emily Maguire
Nicole Kidman Was My Girlfriend - Greg Fleet
One Night in Jena - Mike Noga
The Horse Whimperer - Brendan Shanahan
Go to Your Room! - Tim Ferguson
Lucky - Antonella Gambotto-Burke
How Not to Finish Something - Dan Luscombe
How to Turn Your Sons into Hommoseckules - Robbi Neal
Herbal Tea with Kylie - Jessica Adams
Go to Your Room! - Kate Langbroek
Legendary Trip - Joe Dolce
Cringe Carousel Chronicles - Shalini Akhil
Beers, Beards and Bashings - Chris Ryan
Devil's Lullaby - Loene Carmen
With Friends Like These - Erin Vincent
Go to Your Room! - Luke Gower
My Life as a Fluffy Boy - Barry Divola
The Inspiration of the Nation - Tamara Sheward
Leave No Sandwich to Curl Upwards - Tim Rogers
Had a Skinful - Justin Heazlewood
Lessons Learned - Mark Wilson
Anatomy of a Stitch-Up - Jenny Valentish
Go to Your Room! - Keish de Silva
One Night in Heaven - Clare Press
Better Out Than In - Angus Sampson
Case of the Ex - Clem Bastow
I'd Like to Thank the David Jones Makeup Counter - Sarah Wilson
Go to Your Room! - Dave Larkin
Potential - Kelly Foulkes
Confessions from the Graveyard Shift - Andrew G
My Arrest - Dominic Knight
I Hate You, Demi Moore - Alison Urquhart
Go to Your Room! - Suffa
After All, You're Just Talking Meat - Mia Timpano
The Banter Clause - Lindsay McDougall
Mrs Williamson the MILF - Paul Carter
Memoirs of a Has-Been TV Reporter - Libby-Jane Charleston
Brad and the Manzel Room - Mark Gable
The Greatest Love of All - Richard Berry
Laundry - Tug Dumbly
Go to Your Room! - Kate Miller-Heidke
When Once is More Than Enough - Rachael Oakes-Ash
The Time I Saw an Indie Superstar's Vagina - Jake Stone
Settling for It - Andrew Cox
Not Exactly an Armchair Ride to the Top - Nick Earls
Go to Your Room! - Austen Tayshus
Lo Importante, Importa - Matt Zurbo
Taping One for the Team - Julia Wilson
I Stole Gene Simmons' 'Pussy Line-Up' - K.K. Juggy
How to Blackmail by the Stars - Yasmin Boland and Kelly Surtees
Go to Your Room! - Andrew Bolt
Go to Your Room! - Catherine Deveny
Billy the Bottle - Lawrence Mooney
Father's Day, 1982 - Julia Zemiro
Don't Be So Negative - Adam Zwar
Nothing Exceeds - Jimmy Barnes
Go to Your Room! - Rex Hunt
The Time of the Great Pegging - Belinda Luksic
Volkswagens Float but the Excuses Don't - Shane Jacobson
Go to Your Room! - Chris Taylor
Leisure Suit Lisa in the Land of Lounge Lizards - Lisa Pryor
Show Business - Leigh Redhead
Description
Whether it's cartwheeling naked across a rugby field in front of an audience of one billion (including your dad); playing eleven-minute soft rock tracks on night-shift radio as cover for some adult magazine fumblings; getting your appendix removed to avoid an English lesson; or stealing KISS's groupies and charging the champagne to Gene Simmons's hotel room, we've all done something in our dim, dark past that must never be spoken of again.
Yet, bizarrely, the editors of Your Mother Would Be Proud have managed to persuade a host of Australia's best-known celebrities, writers, comedians, actors, and musos to immortalize some of their most scurrilous secrets in print. The result is one of the most revealing collections of true life confessions ever to be compiled and it's all for a good cause! [all royalties going to the Mirabel Foundation]
Releases
Paperback - Allen & Unwin, ISBN: 978-1741756500, 234 mm x 153 mm, 424 pages (Australia) - 1 July 2009
Paperback - Read How You Want, ISBN: 978-1459613409, 10" x 7.75", 584 pages (Australia) - 28 Dec. 2012 - Large Print Edition
Kindle Edition
Notes
Edited by Tamara Sheward & Jenny Valentish.