HANGING OUT IN HEAVEN (2000)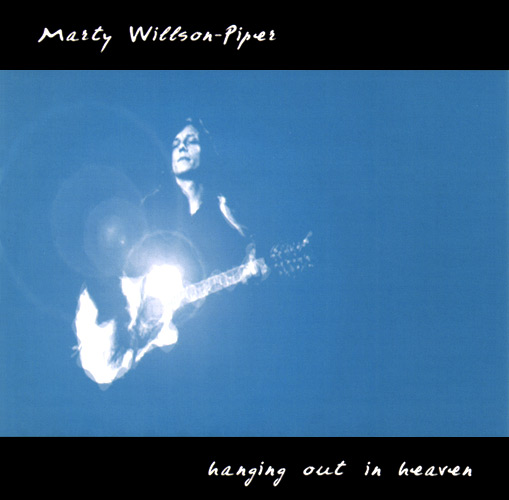 Credits
Engineered and Mixed at Kaboom Studios, Santa Monica, May/June '95 by Shep Lonsdale
and The Blue Room, Gävle, Sweden, August '99 by Andreas Ahlenius
All songs written by Marty Willson-Piper
Photo credits: Anne Ward, Anthony Collins, Sue Campbell and Kevin Keller
Design and layout by Victor Barclay and Peter Suchecki
Mastered by Tardon Feathered @ Mr. Toads, San Francisco, CA
2019 Reissue:
   Art direction by Olivia Willson-Piper
   Front and back cover photos by Jan Uddenfeldt
   Inner sleeve photos by Anthony Collins
Releases
CD - Heyday Records Heyday 46 (USA) - Feb. 15, 2000 - very small lyrics in folded front insert - Disc
Digital Download - Available on Bandcamp
2LP - Schoolkids Records SMR-053 (USA) - Limited Edition Record Store Day reissue of 900 copies on translucent blue vinyl, gatefold sleeve - April 13, 2019 - Cover
 Tracks

(click a title for details)




 Side A

 Side B

 Side C

 Side D

Queen In Her Jeans [Bonus Track, previously unavailable]
Dressed Up As You [Bonus Track]

Digital Download - Schoolkids Records (USA) - April 13, 2019
Streaming - Available on Spotify
Notes
Marty wrote extensively about this album and the Record Store Day 2019 2LP reissue on Feb. 28, 2019.
The 2019 2LP Record Store Day reissue of "Hanging Out In Heaven" included 2 bonus tracks. This was the first appearance anywhere of "Queen In Her Jeans," while "Dressed Up As You" previously appeared on the Pegasus EP in 2008.
A working title for this album was "Mechanical Ballerina."
The CD cover photo was taken by Anthony Collins at the Oct. 5, 1999, "Steveless in NYC" Church show at The Bowery Ballroom in New York City. The 2019 LP reissue front and back cover photos were taken by Jan Uddenfeldt, while Marty was "exploring the archipelago North of Stockholm, sometime in the eighties."
Reviews & Comments