COUNTDOWN: THE WONDER YEARS (2006)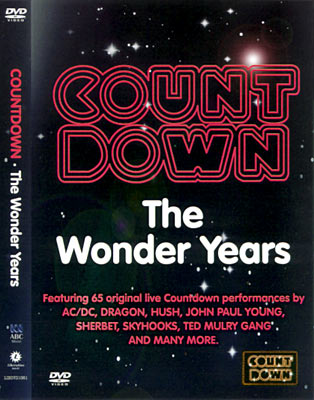 Contents
Disc 1:
The Love Game - John Paul Young
Living In The 70s - Skyhooks
Summer Love - Sherbet
Bony Maronie - Hush
T.N.T. - AC/DC
Jump In My Car - Ted Mulry Gang
I Like It Both Ways - Supernaut
Capricorn Dancer - Richard Clapton
Don't Fall In Love - The Ferrets
You - Marcia Hines
Are You Old Enough - Dragon
Rock 'n' Roll Outlaw - Rose Tattoo
Don't Throw Stones - The Sports
Hit And Run - Jo Jo Zep And The Falcons
Lonesome Loser - Little River Band
Island Nights - Marc Hunter
Goosebumps - Christie Allen
Computer Games - Mi-Sex
Comin' Home - The Radiators
No Secrets - The Angels
I Got You - Split Enz
Carmilla - Jon English
Modern Girl - James Freud & The Radio Stars
Cheap Wine - Cold Chisel
Time To Rock & Roll - Ol'55
Help - John Farnham
We Can Get Together - Flowers
Spend The Night - Cheetah
Shaddup You Face - Joe Dolce
Counting The Beat - The Swingers
All Out Of Love - Air Supply
Cool World - Mondo Rock
The Unguarded Moment - The Church
Disc 2:
Say I Love You - Renée Geyer
If You Leave Me Can I Come Too? - Mental As Anything
If I Were A Carpenter - Swanee
Boys In Town - Divinyls
Down Under - Men At Work
Alone With You - Sunnyboys
What About Me? - Moving Pictures
One Perfect Day - The Little Heroes
Without You - Eurogliders
This Guy's In Love (With You) - The Reels
Hey Little Girl - Icehouse
Solid Rock - Goanna
Don't Change - INXS
Play The Game - Wendy & The Rockets
Listening - Pseudo Echo
Never Gonna Die - Choirboys
Pressure Sway - Machinations
Maxine - Sharon O'Neill
I Hear Motion - Models
Change In Mood - Kids In The Kitchen
Catch Me I'm Falling - Real Life
Bop Girl - Pat Wilson
Everybody Wants To Work - Uncanny X-Men
Trust Me - I'm Talking
Tojo - Hoodoo Gurus
Say Goodbye - Hunters & Collectors
Great Wall - Boom Crash Opera
Stimulation - Wa Wa Nee
Witch Queen - Chantoozies
Daughters Of Glory - The Black Sorrows
Look So Fine, Feel So Low - Paul Kelly & The Coloured Girls
I Got You - Paul Norton
Specs
233 minutes (Disc 1: 116 min., Disc 2: 117 min.), fullscreen (4:3), PAL, Region 4 (Australia)
Releases
2DVD - ABC Music/Liberation Music LIBDVD1061 (Australia) - July 17, 2006
Notes
The Unguarded Moment video on this DVD is different from the version on Goldfish. The Church are on a stage with a colorful stained-glass-like backdrop "playing" in front of an enthusiastic crowd. This version also appears on the Enter The 80s DVD. ABC Music/Liberation Music also released a 3 CD Countdown: The Wonder Years box set which includes "Almost With You" instead of "The Unguarded Moment."
Contains 2 pages of liner notes by Australian music journalist Jeff Jenkins. Below is the press release for this set:
1974 to 1987 at 6pm on a Sunday night the streets across Australia were deserted. Mums, Dads, kids, housemates, and sometimes complete strangers congregated in lounge rooms across the nation as everyone prepared for the hour long, almost religious, experience that was the ABC television show Countdown. Fast forward to 2006 and the ABC has undertaken a major re-launch of one of its most loved, most successful and most enduring brands.
The DVD comprises 60 tracks, featuring legendary live countdown performances from AC/DC, John Paul Young, Hush, Dragon, INXS, The Moving Pictures, Australian Crawl, The Models, Mondo Rock, Renee Geyer, Mi Sex - the list goes on & on.
COUNTDOWN - The Wonder Years features the biggest names and the biggest hits in Australian Music that made Countdown what it was - an iconic Australian pop TV show.