PARALLEL UNIVERSE (2002)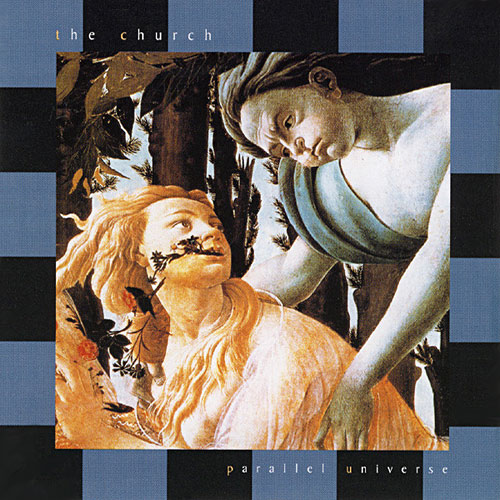 Credits
Disc One Individual Track Credits
Disc Two Individual Track Credits
All tracks disc one and two mastered by David MacQurie @ 301 Studios Sydney
Additional edits and compile by Reece Tunbridge
Original master on 1st Woman and Espionage by Don Bartley
Design and layout by Psychodelic Art & Design
Releases
(rev. Jan. 26, 2019)
2CD - Cooking Vinyl COOKCD248-CDR (Australia Promo) - clear plastic sleeve with label (see below)
2CD - Cooking Vinyl COOK CD 248 (Australia) - Nov. 11, 2002
Marketed in Australia by CME Beaver Pty Ltd under exclusive license from Cooking Vinyl Limited.
Manufactured and distributed by Shock Records Pty Ltd.
2CD - Cooking Vinyl COOKCD248-CDR (UK Promo) - clear plastic sleeve with label (see below)
2CD - Cooking Vinyl COOK CD 248 (UK) - Nov. 4, 2002
2CD - Thirsty Ear thi 57126.2 (USA) - Nov. 5, 2002
2CD - Cooking Vinyl/True North PTN 151 (Canada Promo)
2CD - Cooking Vinyl/True North TND 292 (Canada) - Feb. 18, 2003
2CD - Cooking Vinyl/Sum Records 2656-8 (Brazil) - August 2003
Notes
All artwork for this release (booklet, tray liner, and on discs) show scenes from the Sandro Botticelli painting "Alegoría de la Primavera (aka The Allegory of Spring) (1477-78); 315 x 205 cm (10' 4" x 6' 9"); painted for Lorenzo di Medici's Villa di Castello; now in the Galleria degli Uffizi in Florence. Their description of the scene from this painting used on the cover: "...the Zephyr wind can be seen, chasing Clori, the nymph of Nature, and making her fertile." According to one description of this painting, "Zephyr, the warm wind of Spring, embraces the Roman goddess Flora, or perhaps the earth nymph Chloris, disphanously clad and running from his amorous clasp. She is shown at the moment of her metamorphosis into Flora, as her breath turns to flowers which take root over the countryside."
The booklet contains the following poem:
somewhere just the other side of the mirror
between the black paper and the glass
where all possible things have happened
when all impossible things are always happening
in a little galaxy in a vortex whirl
on a day like tomorrow
if the calendar is correct
as you notice I'm missing
you take out a record
which plays in the background
filling rooms full of shadows
with dozens of notes
gone in an identical world
they remain in yours
and the music emerges
all ready assembled
but differently put down
a gift from a star
and all thats familiar
is switched or abandoned
leaving only an outline
where we used to stand
The Australian (and UK?) promo version includes a label with the following text:
Appropriately titled "Parallel Universe", the double album, with CD1 subtitled "remixture", and CD2, "mixture", is a real treat for both new listeners, old fans, and collectors alike. At this point in their career, The Church have happily, realistically and modestly abandoned all hope of repeating the success of "Milky Way", but their self-styled freedom from the burden of expectations allows them to fashion and make music as they desire and see fit, without regard for current trend or the market, trusting in the traditional virtues of talent, chemistry and good taste to guide them, the essence of an approach that has served them well for over twenty years. As one critic stated, their "timeless, placeless songs hang in the air with a humid presence, like half remembered objects, mysterious and inviting."
On July 17, 2021, Peter Koppes posted this info on Facebook:
First Woman was just a jam. Espionage was a song heavily crafted. Reward was an experiment with me using a Line Pod setting for gated compressor creating the very psychedelic amorphous sound and my track needed to be pitch changed to a different range for my vocals. Steve played great rhythm guitar on There You Go. Instrumental part of Twin Stars is a bit of a tribute to Beatles 'I Want You' and Wishbone Ash. Some recordings in Sweden and some in Glebe.
Reviews & Comments
PROMO EP (2002)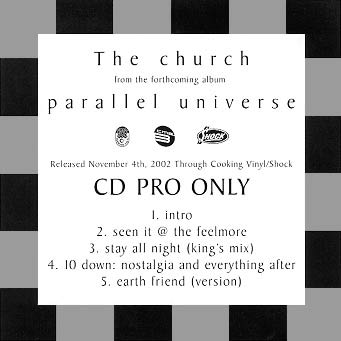 Releases
CD - Cooking Vinyl/Shock [no catalog number] (Australia Promo)