LIVE AT THE BASEMENT DVD (2006)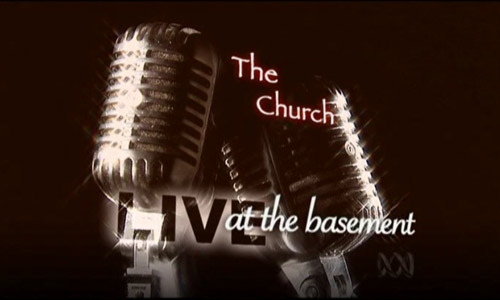 This televised live show was recorded and transferred to DVD (720 x 480 - 16:9, with chapters and animated menus) by fan Peter Suchecki (who also designed one of the Box Of Birds covers) and shared with other Church fans.
With Live Performances of:
Block
Grind

(with special guest David Lane on keyboards)

She'll Come Back For You Tomorrow
0408
Pure Chance
Easy
Two Places At Once
Day 5
Invisible

(Medley*)
*with some lyrics from Decadence, plus Patti Smith, Go-Betweens and Velvet Underground snippets.
Releases
DVD-R (PAL) ABC TV (Australia) - 54 minutes
Notes
Recorded live on March 27, 2006, at The Basement in Sydney, Australia (one of three Uninvited, Like The Clouds Album Launch shows), and broadcast on Sept. 28, 2006. Hosted by Ian Rogerson.
Full setlist of show:
   Block
   All I Know
   Unified Field
   Grind (with David Lane on Piano)
   She'll Come Back For You Tomorrow
   0408
   Pure Chance
   Metropolis
   Two Places At Once
   Easy
   Day 5
  Encore 1:
   The Unguarded Moment
   Invisible
  Encore 2:
   Constant In Opal