ART, MAN + TECHNOLOGY EXHIBIT (2009)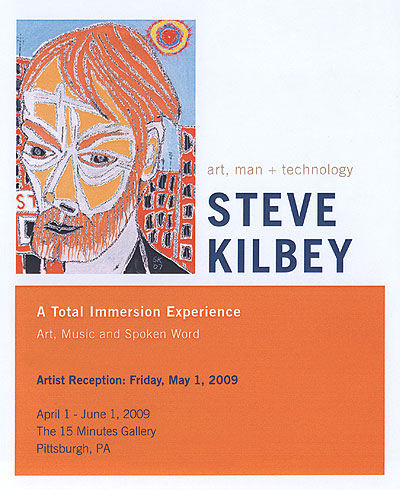 From April 1 to June 1, 2009, Steve had an exibition at the 15 Minutes Gallery in Pittsburgh, PA. Labeled "A Total Immersion Experience," the exhibition consisted of 19 original paintings (one a diptych), to be viewed while listening to an accompanying 19-track CD of Steve's music and spoken word narration. The CD and 5" x 7" prints of the artwork were later sold as a box set (see below).
Exhibit Brochure: Front Cover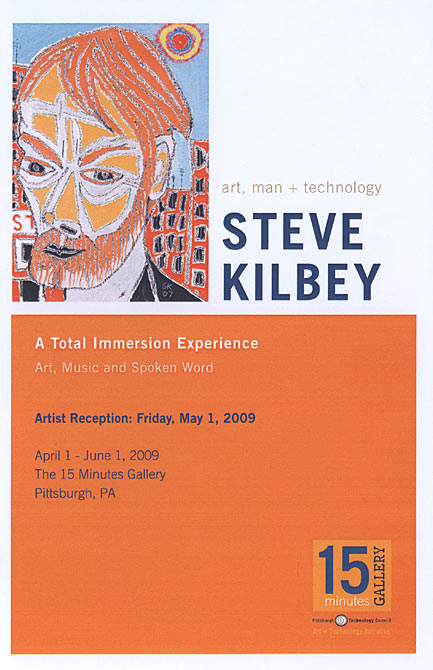 | Inside Spread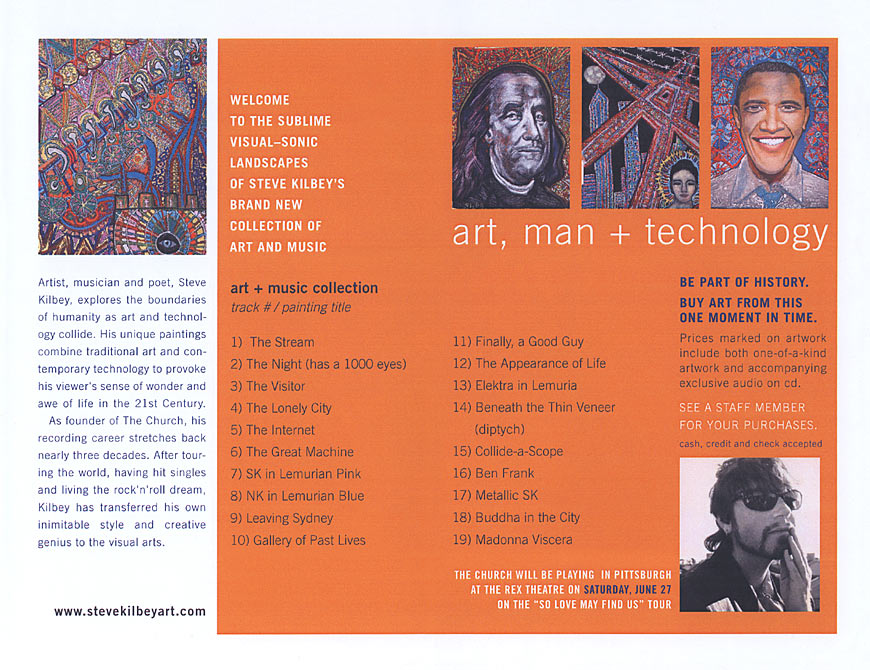 | Back Cover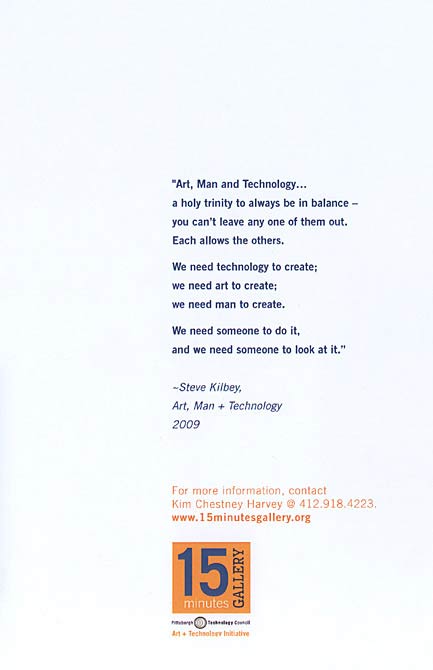 Artwork Exhibited
(roll over or tap a title to see the artwork)
Notes
Steve mentioned this exhibit and the box set below in his blog on April 1, 2009 (Advertisement):
please go to my art site
you can click on it there on the right
you can see the paintings for my new exhi
in pittsburgh pa starting real soon
still havent multi media thingies finished
but its all coming down the line soon too
if you like my blog style
then you'll like my little discourses on my subjects
you see i am the total package
taking care of all your artistic needs
a one stop shop for all things renaissance
i'm blowing my own horn again
for who else will?
here i am a whirlwind of activity
spinning out stuff constantly
voice from another room : most of your stuffs quite good...
i am there in the frontline
nailing the paintings n songs n blogges that only i can
and i nail it and i nail it and i nail it
i have enough fire for ten other medi-ochre poets
but lawd, dont i love to go on about myself
i'm shocked not to be discovered
ART, MAN + TECHNOLOGY BOX SET (2009)
This unusual box set, consisting of a CD and 20 archival quality 5" x 7" prints, was released after Steve's Art, Man + Technology solo exhibition in Pittsburgh, PA (see above). The 19-track CD is identical to those available for listening at the exhibition. This box set was produced by Holly Jordan and is now out of print.
* These tracks are a bit more song-like in production and vocal delivery.
Credits
SK [words and music]
Jorden Brebach [engineer, mixing, additional music]
Dave Skeet [additional engineering, additional music]
Recorded @ Orange Room, Surry Hills
and @ Dave Skeet's, Bondi Junction
CD Design by Kim Chestney Harvey
Special thanks to Holly Jordan + Kim Chestney Harvey
Releases
Box Set: CD [no label/no catalog number] + Prints (USA) - Aug. 15, 2009 - Disc
Digital Download - self-released - 2014 - Available on Bandcamp
Notes
Steve wrote about these tracks in his blog on April 8, 2014 (poetry downloads! get em here!) when he made them available as a digital download.
Reviews & Comments