FREAKY CONCLUSIONS (2003)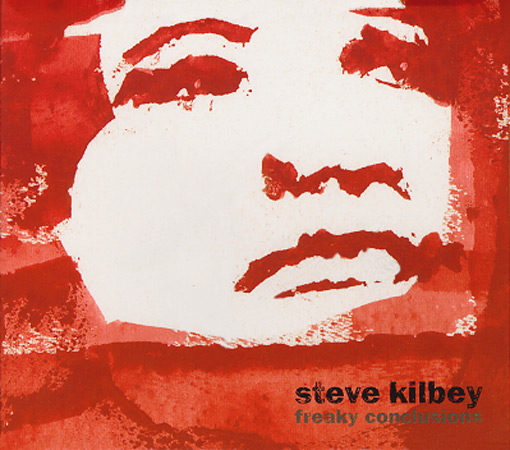 Credits
All songs written by SK
except 'She Me We' (SK & Russell P. Kilbey)
Drums & percussion Darren Ryan (The Fuddha)
All other instruments SK
Originally engineered and produced by SK
Additional engineering and production JLK
Mastered at Studios 301 by Dave Macquarie
Original artwork by SK, design by Kate McMenomy
WARNING: there's more where this came from!!
Releases
CD - Karmic Hit KH015 (Australia Promo) - standard disc and booklet in a PVC sleeve - Cover
CD - Karmic Hit KH015 (Australia) - Digipak
CD - Second Motion Records [no catalog number] (USA) - May 18, 2010 - Digipak - Included in the Monsters n Mirages box set.
Digital Download - Self-released (Australia) - Available on Bandcamp and Apple Music
Streaming - Available on Spotify
Notes
Sales blurb from Karmic Hit:
"...get ready for - "Freaky Conclusions" a collection of SK's songs from 1978 to 1983, the period which includes the writing of the first three Church cd's. Recently recovered, these songs are being lovingly restored and they are going to blow your minds! Some are classic SK tunes, some experimental, some really melodic, some rocky, some you may be familiar with in other contexts. Let's face it, with over 60 tracks to choose from, we are going to be putting together an album to rival Unearthed and then some. For the first time, this cd will feature a cover and artwork by the man himself."
The 24-page booklet that came with Karmic Hit KH015 contains photos, Kilbey art reproductions, select hand-written lyrics and this long write-up by Steve: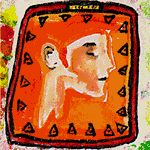 Between 1977 and 1985, I recorded hundreds of songs on a Teac 3340S four track tape recorder. Unfortunately for posterity and prosperity, many and most of those original recordings are no longer extant, not even as cassette copies.
At first I would simply record over the master tape, over and over again to save buying the expensive reels, which meant the only version was on cassette. Not to mention the rather lo-fi cassette deck I initially was using hissed like a cobra. The cassettes then ended up inside a shoe box in a damp cellar for many years so you can imagine the crisp trebles and the fat bass those mouldy stretched tapes did not contain.
Then, if you add to that careless stewardship, magnetism, technical ignorance and mysterious disappearance, you can see that just like those tiny turtles born on the beach in Tahiti, very few songs actually have survived the long journey to the ocean of now.
However, an anonymous tip off led Karmic Hit to an old abandoned warehouse where a cache of four track tapes was discovered. My happiness turned rapidly to despair as I cast my eyes over the song titles and realised that these tapes had some serious problems.
I had previously tried to mix some of these songs down and had encountered a screaming sound and lockup within the tape machine as the unbound iron molecules of the disintegrating tapes stuck to the heads of the recorder. The tapes had, due to age and wear, undergone the inevitable process of oxidisation. And that had been 20 years ago. God only knew their current condition.
After a harrowing search the old 3340S was located, dusted down, demagged, heads checked and cleaned etc before being pronounced by the boffins to be in a satisfactory condition.
Of course, I was excited to hear these songs again, many of which were now only a title to me on a box, but whose music and words were totally forgotten.
However, I was totally sceptical of transferring these tracks to computer because I had already encountered the frustration of an oxidised tape.
Frankly, I didn't think it looked too promising but the brother formerly known as John and now known simply as JLK had these tapes 'baked', a great process wherein the ferrous molecules can be temporarily reaffixed to the tape in some sort of 'oven' (I guess) and he hoped for a happy outcome.
We put the first tape on but between tantalising snatches, the tape stuck. It just screamed as it locked up and was just basically unusable.
We tried this and that, even spooling the reels manually (real 'hands-on' recording) but this tape and all the others were seemingly useless and in a fit of pique I then announced my intention to have nothing further to do with them.
However, JLK persisted having the tapes baked and then rebaked until at last he succeeded in getting that one crucial take where the tapes did what they were supposed to do. They were now gliding smoothly and silently over the runners and heads and he got it all down into his computer safely at last.
He then spent many long weeks steadily rehabilitating and cleaning up these sick old recordings into something that sounded vaguely reasonable.
One problem however was the bloody drum machine. Firstly, it was already a rotten sounding drum machine to start with.
Secondly, I never learnt to program it as it was really complicated and so it would monotonously bang away at the same boring pattern consistently throughout the entire song.
Thirdly - due to having 'bounced' all of the instrumental tracks down to one track, the drum machine had then gradually drifted to a foggy far-off place and the songs were ooomphless.
We debated long and hard whether or not adding new drums would desstroy the authenticity of this stuff, but authenticity was cold comfort in the face of the insipid click and muffle of the drum machine. So Darren Ryan stepped up to the crease with his drums and laid down new drum and percussion tracks which vastly improved the 'ooomphness' of this record.
JLK has also been allowed free rein in selecting and enhancing these songs and thanks to his diligence it's just miraculous how they sound now compared to their former awful selves.
There are still many more songs in the vault at Karmic Hit which we intend to rejuvenate and release in the future, God and oxidisation willing.
So please, now, sit back, take a refreshment and enjoy the new old sounds of Freaky Conclusions.
S.K
Bondi
Jan 2003
Those who pre-ordered were given the chance to win one of five original Steve Kilbey drawings
Bandcamp write-up:
An intimate 13 track look at SKs creative process from the era 1980-84 or the first 4 Church albums. A unique collection of home recordings, digitally transferred, sonically enhanced and represented as SK would have it.
Reviews & Comments