MTV UNPLUGGED FINEST MOMENTS VOLUME 2 (1997)
UK/FRANCE/JAPANESE VERSIONS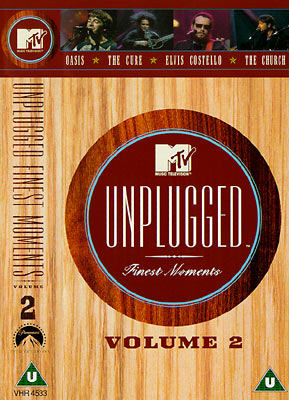 Contents
Listen Up - Oasis
Just Like Heaven - The Cure
Lightning Crashes - Live
Deep Dark Truthful Mirror - Elvis Costello
Under The Milky Way - The Church
These Are Days - 10,000 Maniacs
Black Gold - Soul Asylum
Black Boys on Mopeds - Sinead O'Connor
Must Have Been Love - Roxette
Releases
VHS - MTV Home Video/Paramount VHR 4533 (UK) - PAL, Approx. 42 minutes
VHS - MTV Home Video/Paramount 21 2681 (France) - SECAM, 45 mn
VHS - MTV Home Video PVS 70656 (Italy) - PAL, Approx. 42 minutes
VHS - MTV Home Video 2106221 (Netherlands) - PAL, 45 minuten
VHS - PMT 35011 (Japan) - NTSC, 41 minutes
Notes
The Church played on MTV Unplugged in 1990.
USA VERSION
Contents
Listen Up - Oasis
Just Like Heaven - The Cure
Lightning Crashes - Live
Under The Milky Way - The Church
These Are Days - 10,000 Maniacs
Black Gold - Soul Asylum
Black Boys on Mopeds - Sinead O'Connor
Girls on Film - Duran Duran
Releases
VHS - MTV Home Video/Paramount N06221 (USA) - NTSC, 40 minutes
Notes
The Church were featured in show number 6 of MTV Unplugged, sharing a split bill with Sinéad O'Connor. This show was recorded on January 30, 1990 at National Video Center, NYC, and first aired March 18, 1990. The Church performed "Under The Milky Way," "Metropolis" and the Ray Davies song "Waterloo Sunset" (with Jules Shear - did not air). Additionally Marty Willson-Piper performed the Lennon/McCartney song "Rain" with Shear. This performance is chronicled in the MTV Unplugged Book and MTV Unplugged CD-ROM.