A PSYCHEDELIC SYMPHONY: LIVE AT SYDNEY OPERA HOUSE (2014)

WITH THE GEORGE ELLIS ORCHESTRA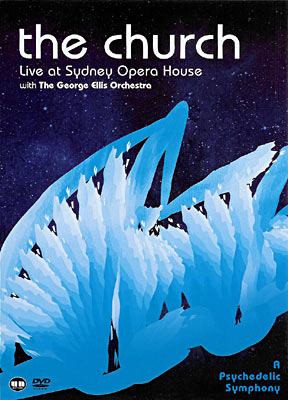 This live show was recorded at the Sydney Opera House on April 10, 2011.
Contents
(click or tap a speaker icon to hear the track on YouTube, or a title for details)
    * Vocals by Steve Kilbey & Marty Willson-Piper.
Specs
PAL, All Regions, Aspect Ratio: 16:9, Audio: 5.1 Dolby Digital, 115 min.
Credits
Peter Koppes - guitars, baritone guitar, bass, keyboards, vocals
Steve Kilbey - vocals, bass, six string bass, guitar
Tim Powles - drums, percussion, vocals
Marty Willson-Piper - guitars, bass, vocals, percussion
Special Guests:
Craig Wilson - keyboards, guitar, six string bass, mandolin, percussion and vocals
Soloists
  Sophie Collins - cello
  Patti Hood - harp
  Johnny Zwartz - double bass
Vocalists
  Shelley Harland & Tiare Helberg
Bass
  Wes Gregorace
The George Ellis Orchestra:
Conductor: George Ellis
First Violins: Jeremy Chew, Simone Cheung, Lucy Cohen, Annemarie McClaren, André Brokman, Chiara Pascuzzo, Meg Cohen, Jerushah Yogendran, Marie Lee, Camille Hanrahan-Tan, Elisabeth Oehike, Madaleina Hanrahan-Tan, Tim Willis, Bree Baxter, Manu Fonsny
Second Violins: Charles Belling, Emma Graham, Melissa Morphett, Hendrikje (Henni) Pauer, Eric Shi, Elizabeth Oh, Kelvin Ng, Inès Zorgati, Leah Kim (Ria), Amelia Saul, James Constable, Catriona Wimberley, Tonya Rushmer, Jillian Mellor, Peta Borella, Claire Gibson
Violas: Marcus Rigg, Tim Dickinson, Dominic Meagher, Isabelle Guyot, David Pincus, Koen Andrews
Cellos: Anthony Albrecht, Roy Chen, Joshua Whiley, Cara Margaux, Kate McCallum, Alex Stead, Iona Main, Georgia Ellen, Theo Ell, Daniel Ward
Double Basses: Ashley Kurrie, Laurence Troy, Kit Morrell
Flute: Rose McEwen
Oboe: Kaitlyn Preece
Clarinet: Ellie Keft
Bassoon: Enzo Yeo
Trumpet: Lachlan Butcher
Trombone: Rosie Marks-Smith
French Horn: Laura Morell
Tuba: Paul Touyz
Percussion: Poppy Burnett and Henry Jiang
Show Booking: Joe Segreto at IMC
Tour Manager: Tiare Helberg
Production Manager: Haydn Johnston
Band Audio Engineer: Jorden Brebach
Orchestra Audio Engineer: Bob Scott
Stage Techs: Wes Gregorace, Ross Malloy, Shaun Guida, Mike Lindsay, David Trumpmanis
Lighting Designer: Trevor Johnstone
Video Screen Operator: Tara Cook
Live Camera Feed: Kieran Fowler
Visual/Video Content: Sam Bright - Bermudans, Tara Cook, Lloyd Barrett, David Duchow, Thomas Knox Arnold, Paul Vasquez
Record Label: Unorthodox Records through MGM and EMI Records
Publicity and Promotion: Paula Jones, Brian McDonald
Post Production: Post Produktiv
Editor: Marc Collister
Associate Producer: Dean Tocchini
Producer: Nicholas Goldsworthy
TV special produced by Whatever Entertainment Group for XYZ Networks
XYZ Networks General Manager: Shaun James
Program Director: Dan Bessant
Music Director: Drew Michel
Title/DVD Design: Tiare Helberg, Damian Sheiles
Broadcast and DVD Audio mix: David Trumpmanis, TimEbandit Powles and Jorden Brebach
Stereo Mixed at Dodgy Sound and Spacejunk III
5.1 Mixed at Timelock and Trump Manor
Project Management & Producer for the church: TimEbandit Powles
Executive Producer for the church: Kevin Lane Keller
Releases
DVD - Unorthodox UNODVD010 (Australia) - May 16, 2014
Notes
Short write-up at the church shop:
In April 2011, celebrating a 30 year Anniversary and recent ARIA Hall of Fame induction, Australian musical icons THE CHURCH played a spectacular sold out show at the Sydney Opera House. This Psychedelic Symphony was a one-off musical event and fan treat, featuring the bands' collaboration with conductor George Ellis and his specially assembled Orchestra. Filmed by XYZ, it is finally released on a single dual layer DVD - a timeless must have for fans and all music lovers alike. It is also available as a CD Audio-Only double set, including pullout artwork from the show night program.
"Metropolis" and "Happy Hunting Ground" were performed by the George Ellis Orchestra only.
People who pre-ordered this DVD were sent a link to download the bonus track Mr. Guy Fawkes, a cover of the Dave Miller Set classic from 1969, which was also performed at the Psychedelic Symphony show (after "Happy Hunting Ground") [ rehearsal]. Because of glitches at The Church Merch, this free offer was extended through the first week of release. In his infamous 2010 ARIA Hall Of Fame acceptance speech Steve Kilbey highlighted this song and even sung a few bars. Here's what Steve had to say about "Mr. Guy Fawkes":
In 1970 there was an english kid who came to our school.
he said he thought a lot of the stuff on australian radio was rubbish.
But there was one song he really really liked
and that was Mr. Guy Fawkes by the Dave Miller Set.
This song should have been a hit all around the world.
The cynical cellos, the strange lyrics
the distant sad telephone voice and the dreamy acoustic guitars
the weird feeling you had when the song was over
what was that emotion? you couldn't put your finger on it, could you?
a solid gold bona fide classic Australian psychedelic classic!
Steve wrote about the show in his blog on March 21, 2013:
today i listened to the church at the opera house
itll be coming out soon
its pretty fucking good
i didnt think we could capture it but there it is
everybody is playing a blinder
never heard peter play more explosively yet incisively
the band sound like a real band
the only ever problem is my voice
but even that is mainly (mainly) in tune
sometimes i dont get everything right
you can hear me lose my way a few times
exhaustion had set in by this stage
but i fought valiantly on even tho i was knackered beyond belief
the orchestra sounds incredible
words fail me
what a catalogue what a sound what a performance
theres a lot going on over 24 odd songs
fuck its good
i never thought a live album for us was right
till i heard this
accomplished yet still rocking
rough and smooth at the same time
maybe our definitive document
great cross section of stuff too
great to see so many songs from U23
i wish you all had it right now!
soon they tell me soon...and dvd too.....
soon......?!
but there
we can play live
we had 80 odd people all playing at once
its huge
much bigger than ben hur and twice as rockin'!
The other songs performed at the show (played right before "Tantalized" in the encores) which do not appear on the CDs or DVD were "Already Yesterday," "Invisible" and "Operetta."
Reviews & Comments