ART ATTACK (1988)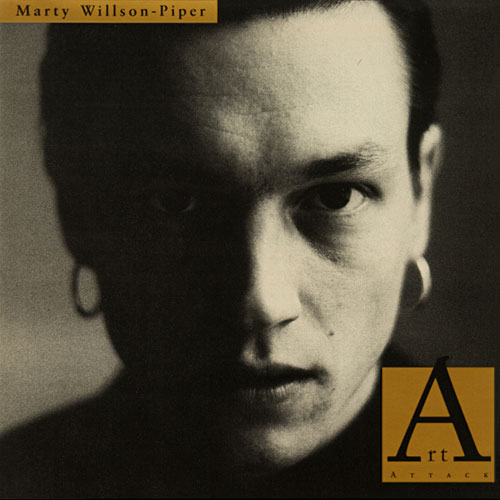 * CD Bonus Tracks from "In Reflection"
Credits
Marty Willson-Piper: Lead vocals, backing vocals, guitars, basses and half the keyboards.
Andy Mason: Six string on "Frightened," harmonica, tambourine, backing vocals and the other half of the keyboards.
Ann Carlberger: Vocals on "Water."
David Leone: Double bass on "Evil Queen."
Barton Price: Snare toms and hats on "She's King."
Martin Rössel: Slide guitar on "Frightened."
Produced and arranged by Marty Willson-Piper and Andy Mason
All songs recorded by Andy at Zillagod studios, New York City between 1st and 12th of July 1987
except "Word" recorded by Dave Dale at Zillagod and Ann's Watervocal
and "Frightened" recorded by Martin Rössel at The Exploding EightTrack, Stockholm, Sweden, October 1987.
Mixed by Andy at "A Secret Location," London, England
Digital Mastering: Dr. Toby Mountain
Art Attack Photo [back cover]: Jean Cocteau, Paris 1926. Photo by Berenice Abbot.
Front cover photo of Marty, Stockholm 1987 by Pelle Bergström.
Photos of Marty, Ann and Andy, Stockholm 1987 by Jan Uddenfeldt.
Cover Art: Lena Carlberger
CD Package Design: Kathy Chapman
Management: Michael J. Lembo, Mike's Artist Management, Ltd.
Releases
LP - Ryko Analogue / Survival 462450.1 (Australia)
LP - Ryko Analogue RALP 0042 (USA) - June 15, 1988 - Gatefold Sleeve, Clear Vinyl, "RYKO Analogue" obi around cover
LP - Ryko Analogue RALP 0042 (USA Promo) - Gatefold Sleeve, Black Vinyl
CASS - Ryko Analogue / Survival 462450 4 (Australia)
CASS - Ryko Analogue RACS 0042 (USA) - June 15, 1988 - Chrome
CD - Festival D19273 (Australia)
CD - Rykodisc RCD 20042 (USA, Canada) - May 6, 1988 - "Printed in Canada" on back cover - w/lyrics in booklet
CD - Rykodisc RCD 20042 (USA, Canada) - Repress - green jewel case with clear 'Made in Canada' sticker on back cover - w/lyrics in booklet
CD - Rykodisc / Festival D 30879 (RCD 20042) (Australia, New Zealand) - 1992 Reissue
Digital Download - Available on Bandcamp
Streaming - Available on Spotify
Vinyl Run-Out Groove Messages
  LP Survival 462450.1 (Australia)
    Side 1: Å
    Side 2: LIFE'S JUST ONE BIG BUMMER!
Notes
A Press Release
ACOUSTIC EPIPHANIES
Marty Willson-Piper, guitarist and songwriter of The Church, makes his American debut as a solo artist on Rykodisc's new release ART ATTACK. This release will be a revelation for Church fans who know Willson-Piper as writer or co-writer of the occasional song for the band. His songwriting potential blossoms here in this collection of ethereal, extremely listenable new pop music.

As well as co-producing, Marty Willson-Piper played most of the parts on ART ATTACK, making this a warm, intimate work. His earthy, soulful voice contrasts with ringing acoustic guitars and lush harmonies to create songs that are both personal and relentlessly catchy.

The album ranges from the acoustic energy of "On the Tip of My Tongue," to the lush psychedelia of "Word," to the infectious pop of "She's King." This latter song is now being released on a 3" CD single that also features alternate versions of "Listen/Space" and "Frightened Just Because of You."

The Church currently enjoys chart topping status with STARFISH, the group's first album on Arista. They'll be supporting the record with a tour of the States this summer. With the simultaneous release of ART ATTACK (as well as solo projects by Church members Steve Kilbey and Peter Koppes) Rykodisc proves that the creative talent in this band runs deep.

The CD release of ART ATTACK features six bonus tracks from the Australian album IN REFLECTION.
was issued by Rykodisc.
There was a promotional kit that included the Survival 462450.1 LP, a Marty Willson-Piper t-shirt and a yellow promo pin of some sort.
Back of CD booklet includes this photo: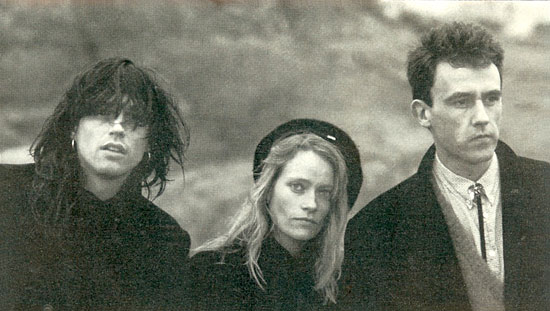 Marty Willson-Piper, Ann Carlberger, and Andy Mason
The CD booklet also includes this bleak photo: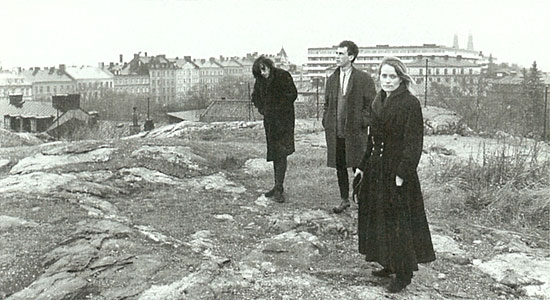 Marty Willson-Piper, Andy Mason, and Ann Carlberger
The back cover includes this photo of Jean Cocteau by Berenice Abbott: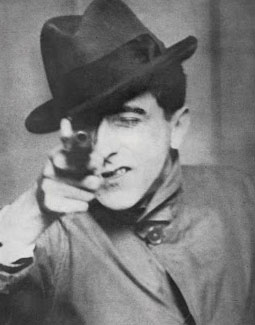 Reviews & Comments