FUTURE PAST PERFECT: LIVE AT THE ENMORE (2013)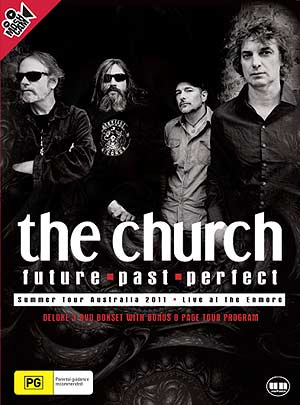 This DVD set chronicles the band's Dec. 17, 2011 show at the Enmore Theatre in Sydney, part of their "Summer Tour Australia 2011." It features the Untitled #23, Priest=Aura and Starfish albums played in their entirety, filmed from multiple angles, in stereo, by the folks at Moshcam. Included is an 8-page tour program.
Set List
(click or tap a "play" icon to launch an album playlist, or a song title for details)
DVD 1: Untitled #23 -
DVD 2: Priest=Aura -
DVD 3: Starfish -
Specs
All Region, Stereo Sound, Linear PCM, Dolby Digital, PAL, 16:9, 174 mins.
Releases
(rev. Jan. 28, 2019)
3 DVD Box Set - Unorthodox Records DVD-FPP-2013 (Australia) - Aug. 1, 2013 - PAL format
3 DVD Box Set - Unorthodox Records DVD-FPP-2013 (Australia) - Sept. 1, 2018 reissue - NTSC format
Notes
This is how Steve Kilbey describes this video:
I'll tell you one thing about the Enmore. my brother Russell has seen about one thousand church shows. by now hes pretty used to it. but after that show he grabbed me and told me how great we were. thanks i said. but wait a minute he said. this time you really were great. it was like the Beatles or something.....
we chose these 3 albums i guess to represent 3 aspects of our work. our most successful album Starfish is here played in its entirety on this tour which is a first. our latest album U23 sounding more muscled up and actually improving in some cases on the record. and Priest which is just one of those records you make once in a career if you're lucky, and guess what...? we do a good version of almost all of it which took loads of rehearsal but was definitely worth it. the three album thing was a good idea. i didn't think i would but i love this DVD!
This is how Peter Koppes describes this video:
This is an excellent document of the almost three hour long triple album show which had been played in USA earlier in the year to rapt audiences. So the band was looking forward to presenting it in Australia and being able to film it. But this was only the second performance of the show here and the band had also just played the two complete acoustic albums shows at 3 gigs since the first show. With 5 complete albums in our heads, we were surprised that every song on this night was played so well and no post recording was necessary. Adding to this was the very vocal audience and some iconic and humorous interaction.
Natalie Salvo from aureview.com provided this review of the show:
the church had delivered an epic three and a half hour set. There was no encore but they did leave us feeling happy and with Christmas cheer. It had been dynamic and cerebral music full of the group's spiritual lyrics about love and detachment with a clever suspension between reality and fantasy. At times cryptic and complex, it was like travelling in a time machine through evocative landscapes, swirling psychedelic and an ethereal haze. In the free tour program Willson-Piper had described the show as an "Auditorium of the imagination". If so, it seemed that these doors of perception were blown wide open with space, melody and dense lyrics, and if I had a crystal ball I'd predict that the church's future will remain as inspired, creative and perfect as their past and present.
Reviews & Comments