STEVE KILBEY: ARTIFACTS (2006)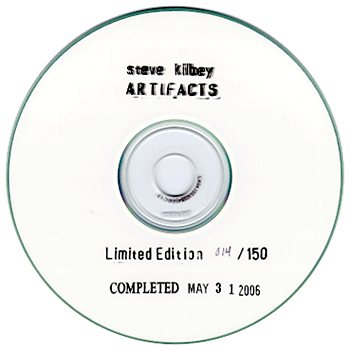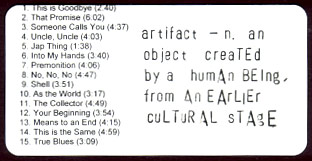 Tracks
(click a title for details)
Credits
Original demos performed and produced by Steve Kilbey

This release:
  Produced by Mike Chauby
  Remastered by Edgar Aldrett
Releases
CD-R (USA) - Numbered Limited Edition of 150, though only about 50 were produced
Notes
This is a collection of old Steve Kilbey demos, dating from the early to mid '80s. Sound quality is good, as they seem to be about 2nd generation copies. Steve Kilbey personally gave Mike Chauby permission to distribute these free to fans.
In 2010, this CD was repackaged and included in the Monsters N Mirages Box Set.
Mike Chauby posted this to the Seance Facebook page on Oct. 10. 2014:
OK, time to come clean: I was behind the debacle that was Steve Kilbey Artifacts. I purchased this tape on eBay around 2005-06 from a person who acquired it from Steve on either the 1984 or 86 North American tour (he couldn't remember). I offered it to the group free of charge; my plan was to create a limited press CD for fans. Edgar Aldrett was kind enough to (re) master the recording and I burnt and mailed about 50 or so copies before I had some serious setbacks in my personal life. It is satisfying to know that this was included in SKs box set virtually unchanged with my original title. It still pains me to think of the people that I promised a copy but never delivered...so, to you, I apologize. Also, as not to leave any loose ends: if anyone tells you that SK is a prick, they're full of shit. I asked for and was granted permission to pursue this project by SK, who wanted nothing in return.
Reviews & Comments